Bearded's Guide To… Norwich
It's Wednesday morning, and this time Bearded revisits Norwich. Glen Westall reports...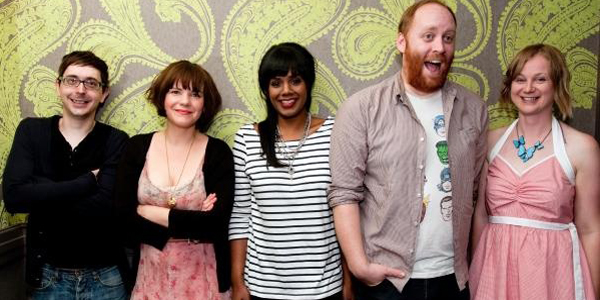 Earlier this month, indie rockers
Bearsuit
launched an innovative fan-aimed campaign at getting themselves to US music and film festival SXSW. Making use of co-operative, crowd sourcing financial models, they started an online piggybank to which fans could contribute as much or as little as they wanted with the eventual aim of gathering £1000. To encourage donations, Bearsuit created benchmarks with prizes: donating £5 or more, for example, would gain the contributor a fan club membership, artwork postcards and a transfer tattoo; whilst over £500 led to a whole bunch of album, artwork, novelty goodies, gig tickets plus the band would play at the contributors' house. If someone donated the full £1000, Bearsuit would have changed the band name to that contributor's personal name! Sadly, this did not happen, but Bearsuit's actions proved to be genius as within two weeks, and after the donations of 20+ fans, they had raised more than the grand they needed. Good work, guys.
One notable news item this month has been the glut of announcements regarding the line-up for upcoming
Norwich and Norfolk Festival
(NNF11), the city's answer to the Fringe. Cinematic string group
Kronos Quartet
are set to play
The Theatre Royal
whilst
Bo Nanafana
has already announced what they are to put on: a night of Tropicana-themed mambo and ska complete with DJs, live bands and performance set pieces. Though it's not for a couple of months yet, tickets are already on sale and well worth keeping an eye on the music line-up as it is revealed. Last year's festival saw the presence of CocoRosie and John Cale amongst others, so there's no doubt this year will be equally interesting.
On the first Friday of every month, a night known as
Folk Off!
is held at
The Ten Bells
pub on St Benedict's Street. Despite it's moniker, the gig is not limited to folk music, as March's line-up proved: alongside the distinctive Americana of
Blanche Ellis
were rockers
Munky Du
– whose set included a surprisingly palatable rendition of Green Day that had the place dancing – and headliners
British Rock Soul Pioneers
, the band name essentially doubling up as a genre tag as well. Though the BRSP's bass was sadly lost in the mix and drumming not quite groovy enough for the guitars, their first gig together as a full band left the impression that they will go on to greater things. Also, kudos to the bespectacled man that moved with the most delirious of disco fevers all night long.
On a less local note, a few notable bands have passed through Norwich in recent weeks. Beardyman (no relation to this site) sold out
The Waterfront
with his cheeky looped beatboxing and moderately entertaining between-song banter, whilst rapidly rising stoned out rock stars
Yuck
shook
The Arts Centre's
medieval foundations deep into the night (well, 11pm). At the end of February, The Streets hunkered down at
The UEA
for an evening, the location of the band's latest album cover photo, and enchanted the crowd with a set heavily comprised of older material including classics like 'Don't Mug Yourself' and the awful yet catchy 'Fit But You Know It'. Big bass and large amounts of hands in the air – at least two for every person that was there – meant The Streets' final gig in the city will be remembered for a while yet.