Bearded's Guide To… Bristol
Cloudrunner talks to Dave Artscare.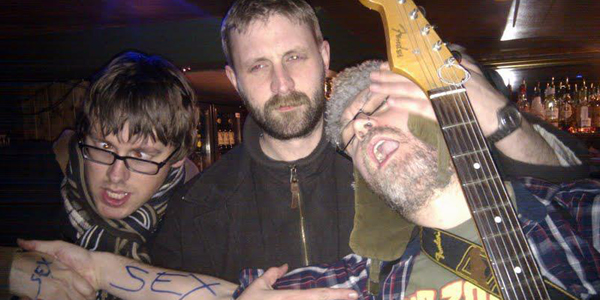 Unassuming in appearance, sporting a regulation cap, T-shirt, combats and trainers,
'Artscare' Dave
is a true supporter and stalwart of the local music scene in Bristol. Both bearded and spectacled he's a bit of an enigma, yet beneath the surface he bubbles with welsh lilted enthusiasm, and the force behind
Artscare Records
sure likes to talk. He admits he's winging it somewhat when it comes to juggling life as a broadcaster (on the Artscare podcasts, and on BBC Bristol), teacher (of guitar, in schools and prisons), promoter, composer and sound editor (for film and TV), and performer (with his band
The Backhand Jags
). Yet after years of trying to find his niche, the balancing act is proving easier than it may sound, when armed with a positive attitude and a whole lot of love.
Artscare is not a record label as such, it's more of a working partner for its signed-up, unsigned bands/artists; working towards their own aims, be they limited edition CD runs, showcase gigs, radio airplay or more standard promotion. The emphasis is on the bands themselves to narrow their expectations and focus on each goal in turn, the Artscare banner offering them some status and protection, but the protection that a family might offer, not the protection of money from the office block mafia. These bands include
Rock In Your Pocket
, whose
Gutterdub
album, which is "awesome . . . if you like your heavy riff, rock stuff. It's well produced, well thought-out and arranged." There's
Bravo Brave Bats
, "check out their EPs",
Langur
and
We Are Strangers Minds
.
Artscare is diverse in its spectrum, gigs include blistering line-ups of local guitar based bands, and acoustic showcases, such as "the biggest one yet",
Patrick Duff
at the Arnos Vale cemetery. Pop, electronica, or anything/anyone local, or on tour, that demands attention, can get a look in though too. I get the sense that when it all comes together at these shows, the pride felt is not just for himself, but for the fans that make the effort to come out and show their support.
Success is a hard thing to measure in a ruthless industry that can shovel your own perceived success back down your throat faster than you can swallow. Artscare is successful on the local stage in that it is recognised by its peers, it has its stamp on a number of excellent releases, and it has conjured up opportunity from obscurity. Simon Cowell may have achieved the latter, but his success is empty in comparison. As the rich and reclusive Joni Mitchell sings, "Money makes the trees come down . . . Big money kicks the wide, wide world around.". . . Yet despite a solid local following Artscare has ambition nonetheless.
"I kind of want to act as a conduit for the Bristol scene . . .to get some national press onside, get bands playing festivals . . ."
Even though Dave is the keenest man in Bristol, for the 'scene', and for the success of operation Artscare, it is clear from the start that it is a fruitless exercise trying to keep our interviewee on topic; and so our conversation meanders along through musicology, autobiography (right back to his introverted childhood), and role-reversal. It's refreshing to break down the traditional structure of the interview, and in doing so I find that I understand just as much about the nature of Artscare through back-story and context, as through our discussions of the "splintered" scenes that make up its arena.
As we wile away the hours I am regaled with stories about a dual life, one of solitary contemplation – and at times depression, alongside one where work in the film industry has led to rubbing shoulders with the stars. Endlessly fascinating are tales of working at Andrew WK's club in New York, bumping Woody Allen out of a studio slot, and of hailing Sir Christopher Lee a taxicab. It has been a journey of self-discovery as much as anything, and one that will strike a chord with any struggling artist. It seems to have taught Mr Artscare the ability to see the humour in, and the good side of, the music industry, and to revel in the unity of the local scene he is so much a part of. A fine example of this diplomacy is in his views on the teaching of music.
"There's no set rules. If you've got it in you . . . true great music . . . I don't know if you can really teach it. I think it (music education) is probably a good thing, but when it's like 'do it this way', that's when I start to veer away."
As for The Backhand Jags, after the release of a 7" split single (with
The Dynamite Pussy Club
) the fun-time punk rockers (which Dave fronts as Cletus Thrift) now have more recordings in the bank and are set to release an EP, perhaps even an album, later in the year. For rollicking feel-good guitar based noise, the DPC aside you'd do well to find a South West band that'll make you smile more.
Other Artscare recommendations for the month are Langur's gig at The Croft, and their album
Deadfacing
. There's also the first album from The Dynamite Pussy Club,
The Church of Yeah
, which is available to download now, and
Dead Wolf Situation
, the debut LP from
The Hysterical Injury
.
Watch The Backhand Jags' video for 'Do the Shake' here.