Bearded's Guide To… Bristol: An interview with The Liftmen
Bearded have a chat with The Liftmen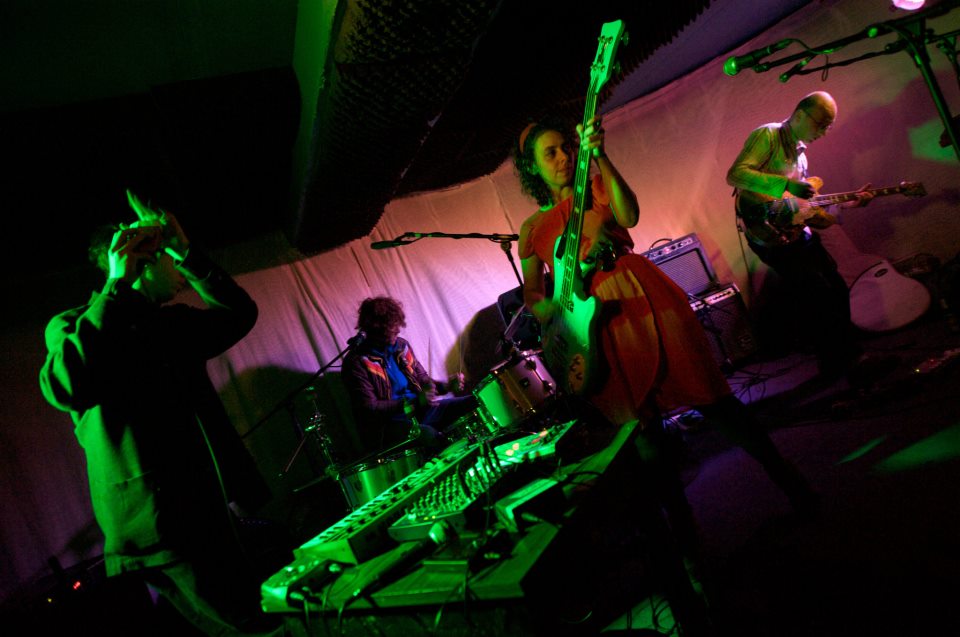 The Liftmen
are comprised of full time members Neil Smith (vocals/guitar), Rasha Shaheen, and Jamie Whitby-Coles (drums/organ/vocals), though they are often boosted by contributions from guitarist Jesse D. Vernon and electronic wizard SJ Esau. They were formed in an Easton lift over a decade ago; they are now one of Bristol's best-loved bands, both live and on record. They have been described as many things, and compared to many other bands; and while they do fit under the banners of 'art-' and 'post-', they have a charm, and balance of content, that's very much their own. Three albums in to an ever-blossoming career – a recent session on BBC 6 Music's Marc Riley show attests to this – their most recent effort
Luftwaffe Pond
(Twisted Nerve) sees The Liftmen at their dark/light, pond referencing, creative best.
Bearded
spoke the band's bassist/vocalist.
Bearded: I hope everyone agrees that ponds are special places, but just how deeply does the band/pond connection go? Is it purely metaphorical, an ecosystem thing? Are you trying to highlight environmental issues, or do you just love ponds?
The Liftmen: The love of ponds comes from guitarist/songwriter Neil Smith, who is ultimately the brain behind The Liftmen. Neil has a huge passion for newts and so is interested in building ponds for anyone who is willing to keep newts in them. He recently organised a pond fundraiser at The Attic in Bristol to raise money to restore a pond in St. Werburghs. So I guess it's a bit of both. The love of all things newts, which includes ponds, and this includes highlighting environmental issues, as they are a rare breed.
B: You play bass and sing in The Liftmen, but you have experience across the board in the music industry, and you teach both Songwriting and Music Business. How important do you think it is for artists today to have many strings to their bow, or can success come from a single strength?
TL: As an artist, I would love to just do music and focus on my songwriting and keep developing those skills, but it didn't work out for me that way and I had to find methods to earn a living while still being able to make music. All the jobs I choose have had to be flexible in order for me to go on tour and play gigs, hence ending up at a college that allows me to go on tour and at the same time teach what I know. It makes it hard though having so many different heads as it takes a while to adjust from one skill to the next. I always think if I could just focus on one, I would be moving faster as I wouldn't have to slow down the momentum each time my focus changes.
Now that the internet has opened so many doors for unsigned musicians, it's useful to have different skills, as you don't need to depend so much on other parties to allow you to keep being creative. You can just go ahead and make your video, design your poster, curate and promote your show and distribute your music, which is great, but if you can find others to help then I think that's best. Like I said above this would mean you get to fine tune and develop your craft and produce better quality rather than spreading yourself too thin. Plus spending more time on one project means you get to push further. It does seem though that the more skills you have the more you can help yourself stand out.
The other point is that artists need to ask themselves how commercial they want to be. If you earn a living from a different skill then you can be as creative as you like but finding the time to be creative when having a job is not so easy. It's a kind of 'Catch 22', and it can leave you tired. You end up not having a social life as you choose to be creative and you have to keep your job. If you decide to earn a living through your music, you end up adjusting your work to please other people more than yourself; this is also tough. It's tough both ways, and it's tough being a creative. There must be a reason why we do it otherwise we wouldn't.
B: What do you see as your own main strengths, and do these correlate to where your heart lies?
TL: This is a tricky question to answer. As a constant student I am always feeling the need to improve so it's tricky to say what strengths I have. My gut answer would say my strengths are what provides me with an income and my heart is doing what I love to do, but that is not necessarily true. If that were the case, my strengths would be organising, teaching, having people skills and being computer literate through music programming, designing and promoting. My heart lies in singing and songwriting. In a way I guess those two lists do correlate as being a creative as you need all the organising, behind the scenes skills to make finished pieces but I guess I would say songwriting is also a strength of mine as I can measure it by the same scale as I get to teach it. They also correlate in that my strengths provide me with an income, which then allows me to pursue my heart's desires.
B: The Liftmen now have three albums, what are the differences between them?
TL:The first two albums were made as a 4-piece (drums, bass, 2 guitars) . More dreamy instrumentals with intertwined twin guitar features. They were both self-releases and later Twisted Nerve (our label) released an album that was a 'best of', in their terms.
Our third album, which became Twisted Nerve's second album release of ours, was a 3-piece (drums , guitar, bass). Jesse, who was a founder member of the band had moved to Paris, we decided to continue, and the music we created became more proggy, more bass-prominent, more song based. We were progressing as songwriters, creating a new language through the new dynamic, and not necessarily moving in any particular direction but rather our own direction. We now find ourselves writing more psychedelic, lyric based kraut-rock (this is for material not yet released).
B: You're not a native Bristolian, when did you come to Bristol, and how important has the city been in your development as a musician?
TL: I came to Bristol in 1992 on route to Glastonbury Festival and ended up at Ashton Court Festival where I met real musicians for the first time (I'd lead a very sheltered life before then in N. Wales and Saudi Arabia). It blew me away and I wanted more. I ended up working for Pop God (a record label) and got taught how to play music in the back of a tour bus, while selling merchandise. I left 1994 to go to Cairo but then returned in 1997 and have been here ever since. I went straight into music college and met my first band Mooz, and have been a part of the music scene ever since and it's definitely what keeps me here. So the answer is Bristol has been extremely important in my development as a musician. The music scene has always been supportive of its musicians with band members playing in other members projects and it's a healthy place to experiment and be creative.
B: Can you name two records – one from your childhood/teens, one more current – that have helped to shape your own music and/or your life?
TL: My own music has always lived in the alternative experimental scene. This started from actual playing and interacting with other musicians. I didn't know this was going to be the style of music I was going to create, I met a few girls at my music tech course and we made strange music and I liked it. It didn't connect with anything that I grew up listening to, except maybe now when I think about it, The Beatles. My dad was a huge fan and didn't listen to anything else except maybe Frank Sinatra. Growing up in Saudi Arabia as a teen, chart music was the only available music to listen to. At the time I wasn't aware that anything else existed outside of the charts. The first album that I ever bought was Blondie's
Parallel Lines
, and I guess the only way that has influenced me is that it was a female singer who sang with slight punk ethics.
It was only when I moved back to the Bristol in '97 that I got introduced to artists outside the charts. Musicians like PJ Harvey, Bjork, and Tortoise. My music has been associated to PJ Harvey as I play edgy electric guitar and am a girl, but if I were to choose a second album, it would have to be Bjork's
Homogenic
. With this album she opened up doors in my mind I didn't know existed. She affirmed an inner belief that anything is possible. At the time and still now I think it was daring, tasteful, feminine, and 'in your face'. I would say that I aspire to those qualities.
B: Who are your favourite Bristol bands/artists? Can you give us some favourite releases or performances from any of these?
TL: Bristol Bands... Let's see... Albums:
Gravenhurst
–
Flashlight Seasons
(Warp)
This Is The Kit
–
Wriggle Out The Restless
(Disco-Ordination)
Rozi Plain
–
Joined Sometimes Unjoined
(Talitres)
Beautiful quirky simplistic songwriting. Looking at this collection I see that I like singer-songwriter style albums that are produced to a cool breeze.
Live:
Beak>
– I have seen them a few times and they just keep getting better. Best performance for me would be at Paleo Festival in Switzerland. Just because it was the last one I saw. It's essentially the sounds they choose and the kraut rock arrangements and the meat-and-two-veg presentation of it on stage.
Thought Forms
– moody and heavy – best performance: NJ ATP Festival, in a bowling alley.
Big Joan
– Best band to see live! Saw them at The Simple Things festival 2012 and had a sore neck from all the compulsive head banging that was forced upon me by their music. They have been going for more than ten years now and they are maturing like the finest wine possible, they were great ten years ago and they are at their best now.
Jess Marlowe
– (Although she has officially moved to London now.) Her voice and songwriting is right up my street. She last played Bristol at the Folkhouse, 2008. A great set of songs.
Zun Zun Egui
– Green Man Festival, 2009.
Rasha's Plug 58 night, is a must attend event, at Cafe Kino, Stokes Croft, on July 21st, and features Annette Berlin (of Big Joan), Jess Marlowe and Egyptian electronica act Garraya. It promises much, including a DJ set from the host. More details here
Find out more about The Liftmen
here