Bearded's Guide To… Bristol
Joel Morgan reports.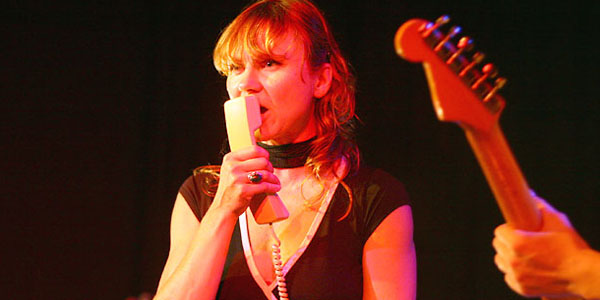 Bristol
has become a pit-stop for touring acts from all over the globe, and some of the standout performances of recent years have come from female band leaders and solo artists, including Nina Nastasia, St. Vincent, EMA – the list goes on. However, the Southwest hub is also a hotbed of home-grown talent and February sees the release of albums by three Bristol based, female fronted outfits, backed-up of course, by live shows.
Rock In Your Pocket
preview their
Gutterdub
(Artscare) release with a free gig at
The Mother's Ruin
on Thursday the 9th. Front-woman Charlie Beddoes' fervid angst will raise the hairs on the back of your neck, whilst the guitars flatten the ones in your ear holes. Though the carousel of drummers keeps turning, it's always an ultra-slick three-piece that graces the stage and balances invention and anthemia with aplomb. Support will come from
Kraul
, and wonderfully named
The St. Pierre Snake Invasion
.
Big Joan
, fronted by Annette Berlin, are a scene staple. They've been around for over a decade, but still sound fresh – always bringing something new to the table. As part of the Choke collective they've always been a popular band, but new record
The Long, Slow Death of Big Joan
(Blood Red Sounds) has already enhanced that popularity since its digital release back in November. Watch them fully launch the album at
the Louisiana
on Friday the 10th, in what will be undoubtedly be a riotous, hyper-rhythmic and innovative performance, more than ably supported by
Katapulto
, and
The Liftmen
– featuring a collaborator of Berlin's, Rasha Shaheen.
Alt-rock comes in all sorts of guises, and is almost disguised completely by the euphoric melody lines of
Hysterical Injury
vocalist Annie Gardiner. As part of their tour for debut LP
Dead Wolf Situation
(Crystal Fuzz), they play
The Green Park Tavern
, Bath (11th) and
The Cube
, Bristol (17th). The Cube's cinema seating will provide all the comfort necessary for full absorption into the sonic barrage of bass and drums in perfect synchronicity.
There's plenty in the way of quality female solo artists on the Bristol scene too. Two performances worthy of a mention come from dark folk songstress
Jemima Surrender
– who supports
Mireille Mathlener at
The Croft on the 15th – and folk/jazz artist
Leonie Evans
at
The Canteen
on the 20th.
So, with the big-guns still rolling into town, it is important to realise that the Bristol live music scene is built on such shows as listed above. Venues and bands alike, please take a bow.