Bearded's Guide To… Belgrade, Serbia
Balkan-Beat-Folk-Steppers Shazalakazoo clue us up on music-making in the Serbian capital.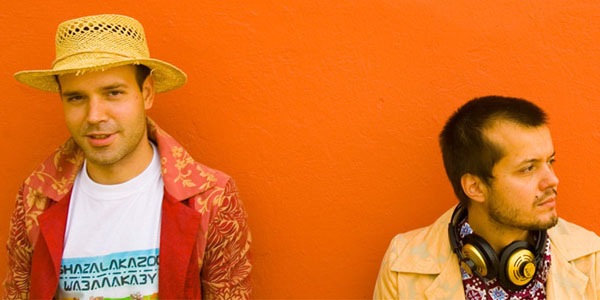 Belgrade is not an easy place to be a musician.
As the sun begins to set over the city, Uros Petkovic is expanding upon this point from our bar table on Terazije Square, in the shadow of the opulent Hotel Moskva. The born-and-bred Belgrader is one half of the Balkan Beat duo
Shazalakazoo
, and has kindly agreed to take the alone and less than street savvy Bearded under his wing for a night, offering us an insight into his hometown and his band's journey from basement studio to international music festivals.
Slim-built, with a relaxed and considered manner, the real-life Shazalakazoo man contrasts with the bombastic nature of his musical creations which blend Serbian folk, Romani Tallava, Balkan brass and Breakbeat into a colourful explosion of good-time beats. Latest single 'Zica Memo' (released on August 14th through Dutch label Downpitch) is a housey party tune that showcases the band's more club-orientated side in collaboration with the Brazilians,
DJ Chernobyl
and rapper
Suppa Fla
.
The fact that Belgrade can be a tricky place to make a living as a musician likely comes as little surprise to anyone who has grown up with the stories of political, social and economic unrest which have plagued the region once known as Yugoslavia over the last 20 years. In a neat phrase, Petkovic observes that "When the economy goes down so does the culture". Elaborating on this whilst swiftly hand-rolling a cigarette he explains that many Serbs would rather spend their money on seeing established Western artists and Balkan superstars than local musicians, "They say, 'Oh, they're Serbian, I already know them'". This frustrating situation unfortunately belies much music making across the globe – in times of economic uncertainty people still happily shell out for George Michael's latest regurgitation of past glories. In Serbia this doesn't only affect musicians though; promoters, record labels and music venues are scarce as they stretch an already thin local market.
Consequently this leads musicians like Shazalakazoo to seek recognition (and as-importantly, remuneration) from outside nations; the band's most recent album (
Karton City Boom
, 2011) came out on a German label, was toured mostly within central Europe and featured collaborations with Serbs, Brazilians and Dutch.
Formed around 2000, Shazalakazoo arrived at a fine time to ride the gentle wave created by the growing international interest in Balkan brass, gypsy punk and related forms, which peaked in 2006 with the arrival of
Gogol Bordello
. Having played in local bands throughout the 90's Uros Petkovic and Milan Djuric found themselves to have increasingly few musical collaborators as the young creatives of Serbia fled the country for more stable climates in the wake of the various post-Yugoslav conflicts and political uncertainty enveloping the region. Turning to computer-based production the duo began to develop a unique sound reflecting their lives at the crossroads of Europe and Asia; traditional folk melodies performed on violin by Uros clashed with Turkish zurna riffs coaxed from Milan's USB clarinet (yep, that is a real instrument) while breakbeats and scratching made a contemporary bed for the unlikely collage.
Noticing that a brass-featuring track of theirs was gaining significantly more attention on internet blogs than their other repertoire at the time the band soon began to focus their efforts upon exploring the possibilities of the Balkan brass sound by hiring a local Romani brass 'orkestar' to work with them on their first full-length album
Speaking Balkanian
(2009). While a market-dictated approach such as this might appear faintly cynical to some music-purists it is important to put into perspective the environment within which many Balkan musicians operate by considering the eye-watering meltdown that the Serbian economy experienced in the mid 90's. So devastatingly buggered in fact, that a 500,000,000,000 dinar note needed to be printed to try to cope with the 600,000% inflation (we currently sit around 3% and are getting quite excited about it). "I would take out money on my way to school and by lunchtime it was worth half as much!" remembers Petkovic. While far more stable today the economy is still recovering so given this unfeasibly volatile past it is unsurprising that music making becomes pragmatic and, to a point, opportunistic. Wanting a career as a musician is a bold choice in a country whose welfare system makes the dole look like an oil magnate's slush fund.
Shazalakazoo share a recording studio with local
DJ Gramaphonedzie
, its a short walk from Zeleni Venac the daily market where one can buy tremendous home-grown fruit, industrial plumbing hardware and everything in-between. Built into the lower level of a residential house the studio has a warm, organic feel and is kitted up to the eyeballs with glittering lights and stainless steel (a result of the monster commercial success of Gramaphonedzie's pan-European Electro-Swing hit single 'Why Don't You'). With the walls lined by flyers for the musicians' record releases and gigs in exotic places it is impossible not to be fairly envious and hugely impressed; while working within a fairly limited musical environment Shazalakazoo and their associates have built a tremendous project studio, developed a unique sound and are now distributing their inventive, irreverent music to the world through the internet, gaining fans across the globe.
This isn't meant to be a bleeding-heart, survival-against-the-odds pity piece, it's just a regular story about good people making really good music in a very cool (and slightly mental) corner of Europe. And the great thing about music is that it makes regular stories compelling.
Do check out Shazalakazoo's psychedelic folk-art -inspired website and listen to some of their tunes. If you're a diehard jazzer then you might be challenged, however if you've got any interest in the world that exists east of Lowestoft then you'll hear some fascinating stories within a music like you may never have heard before.
VISITING SERBIA
If you are planning on visiting Belgrade (you should) and are hoping to catch some live music then fingers crossed you are a big fan of traditional folk music as this can be easily be found every evening in the Bohemian quarter (Skadarlija) or on certain boats along the river (Crni Panteri is famous for having remarkable Romani musicians every night). Otherwise things become quite a bit harder; rock concerts are sporadic, blues is possible at a club by the botanical gardens, hip-hop appears almost non-existent. Having said that, Bearded did visit during the student holidays so this may be different during term time.
Music events now tend to centre around large scale events, bolstered by tourist money and corporate sponsors.
Guca, Exit
and
Belgrade Beer Fest
are all excellent, safe festivals which tend not to suffer the 'white tape' issues which are slowly drowning Western European festivals.
Guca is a folk festival on amphetamines, grand scale of insanity as hundreds of thousands of Serbs flood into the small village of Guca for a free 6-day celebration of Serbian trumpet music, traditional food and really butch men; Exit features some of the biggest international artists on the festival circuit, costs only £70 and takes place in a fort; Belgrade Beer Fest takes place minutes from the city centre, has a tremendous selection of well-priced booze and features ex-Yu rock legends as well as some international middleweights.
http://www.shazalakazoo.com