Bearded Interviews: The Blueskies
Bearded talks to Brighton band about Nirvana, toy record players and funny cat contests.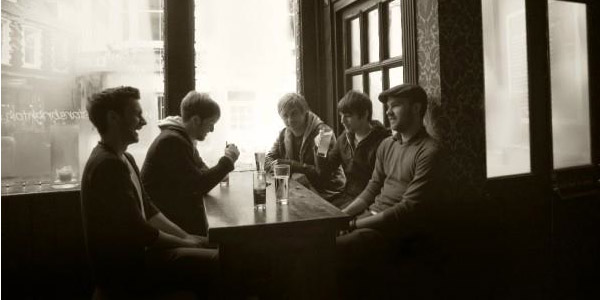 Having signed to Killing Moon last summer, The Blueskies, an electro outfit from the seaside city of Brighton, released their first EP,
Souvenir
at the beginning of May. Kel (bass), Darius (vocals/guitar), Lewis (synths) and James (drums) joined forces in 2006, with a mutual interest in geeking out over synths and secretly liking pop music.
Their six-track EP that they recorded in the no expenses spared surroundings of their bedrooms, showcases their penchant for anthemic tunes with sticky-eared melodies.
To find out more, Bearded caught up with bass player Kel:
What made you want to be in a band in the first place?
I remember at school, there was a band a few years older than my friends and I, and they played all the school band nights, and they seemed like the coolest people anyone could imagine. So me and a few of my friends broke into the school music room one lunchtime, and set up the instruments as best we thought (only one of us could actually play an instrument) and then attempted to play 'Tourette's' by Nirvana. Obviously, this is not the most subtle choice of song to play if you're a bunch of kids with no musical talent trying to play music on the sly. We all got detention but it was worth it!
What is your earliest musical memory?
That's actually the same as one of my earliest memories; I remember having a toy record player when I was about 3 or 4, I think it had something to do with Thomas the Tank Engine, and it had these different chunky plastic "records" which would play a little tune, I used to run it backwards and forwards really fast so that it would sound really weird. I guess I should have turned out to be a DJ!
Who do you most admire, and why?
I've always been a big fan of Andy McCluskey from Orchestral Manoeuvres in the Dark, because he not only writes awesome songs, but I like the way he plays bass. He has this really frantic but steady sounding style that, in theory, shouldn't work with the tunes but it does. Also I think it's really cool how he went on to do the whole Atomic Kitten thing, and he helps out loads of new musicians and artists who are just starting. All around cool guy if you ask me. Oh, also Paulie from The Sopranos... just look at him!
If all your wildest dreams came true, where would you be in a years' time?
Probably going hog wild in Toys R Us with thousands of pounds worth of gift vouchers, getting free fast food, or judging a funny cat contest of some kind. Either that or being able to live entirely off the band and playing many many shows, and having an album out that I was really proud of. I guess.
If you could've written one song in the entire world, which one would it be?
I've got a few of these. Off the top of my head, at the moment it'd have to be 'Golden Brown' by The Stranglers, and probably 'Heartbeats' by The Knife. They've got a firm place on my ever-changing "favourite songs of all time" list. Although it would have been nice to have written 'Smells Like Teen Spirit' so I could never work again. Providing it didn't drive me to suicide too much.
And finally, is it really better to burn out than to fade away?
All the coolest guys and girls seem to have burnt out instead of faded away, so I'm gonna go with that one... although I hope I burn out peacefully after a long and fruitful existence. I guess that's not really burning out though is it?
The Blueskies debut EP Souvenir is out on Killing Moon Records. Order a physical copy online from http://www.killingmoonrecords.bigcartel.com.