A Bearded Guide To… Audio Antihero
Please, Mr Antihero is my father's name, call me Jamie. I'm the one-man-band at Audio Antihero Records: Specialists in Commercial Suicide, a small-time record label that you could be easily forgiven for knowing absolutely nothing about.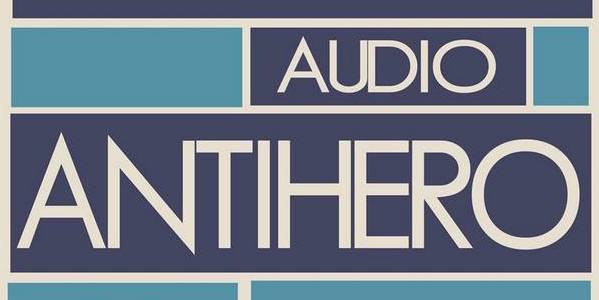 I grew up listening to music like this:
Then stuff like this:
But I think that this is the greatest song ever recorded:
AAH started to release the 'lost' debut from
Nosferatu D2
. Along the way I picked up the one-of-a-kind
Benjamin Shaw
, and I simultaneously released his EP too, though I really should have waited. It was among the most fun I'd ever had and eventually releases by
Jack Hayter
,
Broken Shoulder
,
Wartgore Hellsnicker
,
Paul Hawkins & The Awkward Silences
,
Fighting Kites
,
Cloud
and
The Superman Revenge Squad Band
followed. Like all indie/DIY adventures they were each fun, frustrating, productive, petrifying, wonderful, woeful, gratifying and guilt-filled in their own special ways.
It sounds silly but despite the stupid Nu-Metal sounding name, I never really wanted Audio Antihero to have an "ethos." Some labels have those defiant war-cries against a specific genre/scene/technology and they just look really silly. I mean, I'm all for hating everything you see and hear, but when your only real purpose is to release records that you really like while generating some goodwill for the artist, then you should probably just get on with it. But, I'll admit, not having an ethos, elevator pitch or any real game plan makes it harder to "sell" the label and certainly makes it trickier to "Introduce" it, as delighted as I am to try.
The best way of doing this is to Introduce some of the artists that got me started and that have kept me going since:
Nosferatu D2
The Audio Antihero ORIGIN STORY. Issue #AAH001. They're our "Frank Castle died with his family" or whatever happened to Daredevil to make him such a boring superhero. Their mouthful of a debut
We're Gonna Walk Around This City With Our Headphones On To Block Out The Noise
was pretty much the depth of my plan when the label got started, I was just glad to know that I could have this one record to my name and that the world would be a better place for being able to hear it. Releasing this from a long dead and largely unknown band gave me my stupid (and unearned) "Specialists in Commercial Suicide" slogan. But this brotherly duo (Ben and Adam Parker) had produced what I thought to be the best album imaginable, loud and chaotic but witty and deeply emotional. I think one of the "invisible" factors that makes this album so special is that for all its discordant noise and frantic rhythms, Ben never once touched a distortion pedal, everything is just raw as can be and delivered with unfakeable desperation. The shrilly delivered opening line of "the only place I feel alone is in your arms" is a gateway to a world of wonders. Nosferatu D2 never reformed, which at the time I thought was a shame but now I think is kind of nice. We did get to hear Ben and Adam play together again though as they returned to my little label last year in The Superman Revenge Squad Band, which was a bit of a special occasion, if you're asking me.
Benjamin Shaw
Kind of a mainstay for Audio Antihero, AAH002 was Shaw's
I Got the Pox, the Pox is What I Got
EP in 2009 and our latest superhit was April's
Goodbye, Cagoule World
where he once again did me very proud indeed. Singer-songwriters have long been the bane of everyone's existence, so it has always been difficult to articulate what's so great about Ben's stuff, I still can't - but perhaps the value of his music begins with the fact that he is as much of a sound-maker as he is a songwriter, his music is always gorgeously layered with waves of noise, the crash of broken instruments, eerie samples, deconstructed distortion and so much more - but Ben's strengths don't end here, if you can ever catch him playing acoustically in a quiet room in London then you'll likely be as hypnotised by his sound as I am. He's a wonderful lyricist, he can be as poetically vague as he needs to be or he can be as blunt as one of the many objects he dreams of crushing his foes heads against. Lines like "and we kiss without using our eyes" go up against beauties like "I'll turn up at nine and say that I'm fine, while picturing your limbs in the freezer" - never threatening to slip into the self-important woe world or the obnoxiously 'funny' acoustic anti-folk nonsense. He walks that fine line and does something with words and sounds that I don't think many other people can do. Always challenging but always rewarding and unique.
Cloud
Cloud is the name taken by young Tyler Taormina (and friends), raised in New York, now living in Los Angeles. I heard him through a mutual Bostonian friend and I eventually wound up as the lucky guy who got to introduce (a very small fraction of) the world to Cloud's
Comfort Songs
album. It was inexplicably exciting to work on an AMERICAN record, I'm not sure why, I'm sure in reality it just meant that it cost me a lot more to post copies to his fans but it definitely felt good to talk to somebody who hadn't totally had his soul crushed by London life and had never taken music seriously enough to have it leave him bitter and miserable (he is my polar opposite in this regard). Tyler's music seemed to strike a chord with people and we seemed to get acknowledged by folks who had ignored my pleas for attention for years and I was delighted to get to share his music a little further.
Tyler as a person is unwaveringly sweet, loyal and optimistic, not to mention that he's honest to a fault. All of this comes across in his music, there's no posturing or self-myth making, he just laments what he's lost while treasuring the memories he can keep ("it kills me, I know you won't stay but you'll always be mine in a nostalgic way") and celebrates what he still has with cautious eye on what he still has to someday give-up ("know that when each day shall end that means you've one less little day to live"). The album has a beautifully full sound, smoky brass, pounding piano, piercing guitars, seductive strings and Tyler's perfectly torn vocal but I think the simplicity of the line "it's funny how I'm happy now, singing about my sadness" may have been the first sign that Tyler and I were gonna get on just fine.
Here's a playlist
to give you a wee idea of what we've been up to these past 4-5 years, I hope you find something you like.