Two Houses – Disappointer (Self Released)
Chicagoan garage/college trio issue sterling debut set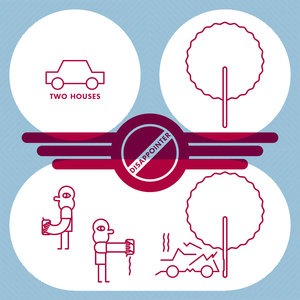 With
Disappointer
on repeat, something just isn't sitting right. Warm tones, cranked to a subtle fuzz, remind me, for whatever reason, of that annual handful of perfect summer nights in Chicago; those nights that never lasted long enough, but somehow attained eternity in their memories. They say that scent is the strongest sense tied to memory, but it's always been sound for me. This EP brings me back... and this is the first I've ever heard of it.
A rolling guitar rings out clean enough to pick teeth with as the drummer grooves to the city's nocturnal tempo. Marching in tandem, bass lines walk the space between timbre and train while the vocals track and relay stories locked in code. Seriously, something isn't sitting right.
Disappointer
repeater. I guess you can't intellectualize the good times. So kick back, crack open a bitter beer and blast that receiver.
Three dudes, one city and a four-song 7". Chicago quartet
Two Houses
are getting ready to drop their debut set and I'd highly recommend getting your hands on a copy as soon as it hits the shelves, digital or wax. My impression Jawbreaker (guitar/vocals), Little Lungs (song writing), Latterman (good-times vibe). Sure they last, but I don't believe that first impressions are always the most permanent or important. They're just the first.
Certain bits of
Disappointer
carry with them pieces that remind me of the aforementioned bands (all bands I really enjoy listening to in different moods and states of mind), but overall, Two Houses are a creature all their own.
The set starts out with a single riff and builds into a welcoming jam sandwiched between a story I'm still trying to figure out. Cedar trees, South Carolina and purple hearts? Ah, the beauty of art and all its subjectivity! With a natural ease, Two Houses descends on instrumentation from pop-song structured guitar, bass, drums and vocals only to bring the track full circle and close it up comfortably. 'Geicsman's Youth' sets proper the stage upon which the rest of the album lay its college rock head upon in reminiscent soliloquy for the ears of its eager audience.
Some think Kanye West is brilliant (namely
him
on
South Park
). Others don't. Still, the battle rages on and, as an unpredicted plot twist, Two Houses offers another angle on the superstar: he doesn't care about Chicago. The second song on
Disappointer
'Kanye West Doesn't Care About Chicago' is the shortest and, in my opinion, one of its catchiest tracks. I think it's the little hook at 25 seconds and the introduction of Two House's mastery of vocal rounds at 35 seconds. "
Have you ever done, have you ever done/Son, have you ever done, have you ever done (drugs?)
"
The title track comes fully equipped with dance beats, sweet leads, hold and release techniques and airy backup vocals snuck behind and to the right. The last track, 'Dude, Peyton Manning', follows up with a tale of growing pains and parking lots. The bass rocks this track harder than any others on the album and the lyrics reign most sincere and honest – gang vocals with football references! The singer yells his farewell, "
And that's the end of you!
" The music swells, its count gets cut in half as it comes to an abrupt end. Twelve minutes.
Case solved. The reason this EP just won't sit right is because, like our first beer, that first hit, your first kiss, nothing compares to first times like first impressions. I gotta admit, I was wrong on that tip. This band is one that I'm going to burn myself out on way too soon, playing and replaying their four tracks over and over again until my roommate and neighbors know the words by heart and sing along without ever knowing the band or origin of their maddening shower sing-along. Great tone, easy tempo, good range in vocals and bass lines that won't stand still make it bad ass enough so you won't forget or regret.