Tilde – Where Have I Been? (Close To Home)
NY three piece show they can make understated punk music for adults, but there's still work to be done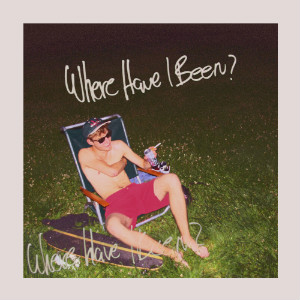 The debut EP from New York's
Tilde
follows the 'pop-punk for grown-ups' blueprint drafted by such bands as
Title Fight
,
Basement
and, in particular,
Tigers Jaw
. Tilde's music isn't exactly the most complicated, comprising of hooky guitar lines, downbeat verses, slightly less downbeat choruses and not a lot else. However, this simplicity plays to the band's strengths, showcasing the impassioned-but-understated tone of vocalist
Artur Szerejko
's voice.
Across the six tracks (or nine on the physical copy), Tilde show they can do a good job of emulating their mature pop-punk influences. Szerejko has a jaded, worn-out tone to his voice, capturing the mood of Tilde and reflecting perfectly their downbeat nature. The music is all jangling guitars and solid rhythms, which sit in the background providing a canvas brought to life by Szerejko's words.
As a whole, this EP is a bit of a slow burner. Opening track 'That Great Lifestyle', with its lo-fi indie verses and more expansive choruses, sets the tone for what is to come. However, despite some interesting drum lines throughout, the track never really gets going.
'Headquartered' is better, with a catchy, hooky chorus and a higher tempo bringing a bit of energy to proceedings. Following this, 'Everything Happens So Much' is a pleasant interlude, calming things back down. This track in particular showcases the emotional range of Szerejko's vocals, with the singer seeming vulnerable and defeated.
The track that follows however, 'Interval', seems a touch unnecessary; just as the EP seems to start building up a head of steam, it's split into two. This is even more of a shame since the subsequent 'Bummer Vacation' is perhaps the best song on the record. While it follows the formula of the rest of the tracks in its quieter verse/louder chorus structure, all the elements seem to fall perfectly into place on 'Bummer Vacation', making it the sort of track you could imagine soundtracking a summer evening spent with a few cold ones.
Final track 'The One You Always Forget' follows in much the same manner as the rest of the EP, but the bonus tracks, available on the physical copies, show a different side to Tilde. The first of these, 'Gaze', is a simple acoustic track that arguably suits Szerejko better than the material on the EP itself, flawlessly complementing his understated vocal style.
The same can be said for subsequent track 'Bones', once again showing the more stripped-back side to Tilde's sound. Final track 'Murder Your Darlings' returns to the formula used across the EP, with the quiet/loud dynamic firmly back in place.
Overall, it's clear after a couple of listens to Where Have I Been? that Tilde are a band with some talent and a knack for writing catchy lo-fi pop-punk tracks. Sure, it's a bit hit and miss, but the band's debut stands them in good stead for making the step up to a full album and hopefully expanding on the good work done so far.