The Narcoleptic Dancers - Not Evident (Bleepmachine / Capitaine Plouf)
With a beautiful back-story to propagate their EP (being half brother and sister, recently united through tragedy), Melody Van Kappers and Anton Louis Jr. offer us a lesson in breezy feel-good tunes which permeate your mind offering you a new viewpoint on life.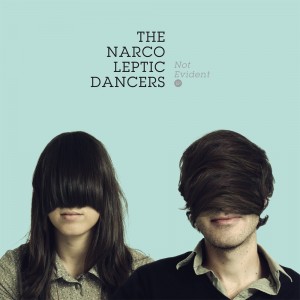 Ramping up
Not Evident
, hand claps and a maraca operate as the timepiece to the simplistic chiming riff which lays low throughout. Melody's light and breezy voice flutters over the acoustics, offering naïve notions and innocent musings "I wish I could talk to the trees and have dinner with the bumblebees". There is a staunch reminder of Kimya Dawson in this, with the pacing of the underlying riff of this and 'Unique Tree', which treats you to more maracas and tapping tambourines. If you thought this EP couldn't get any breezier, witness the lyrics "My friend the wind came to pick me up, just as the sun was coming up, but I still know who I am".
Offering tales of lightness and weight, Anton offers a lighter composition to detract from the darker edges of lyrics in 'Again And Again'. A breathier style is adopted to project the dreamlike inferences of "In my world, there wouldn't be any money, no more wars", whilst offering opinion on a current world view "People seem to be born unhappy". Constricted by the light and bubbling base notes, this track is defined by Melody and Anton's refusal to let life's darkness spoil the beauty.
'Sweet And Soft' reaches out with a stronger up-tempo account, swift piano keys charged in a carefree manner, and a staccato drum beat mostly tapped out on metallic surfaces. The melodies are created with a sudden sense of compulsion, though it is clear there is a lot more to the composition than meets the eye, with Anton in the driving seat. This is evident most of all in 'Rasterkraut (Demo)', which immediately projects silhouettes of an early Kate Nash track. Forming the beat through a steady piano key throughout, fleshing out with a drum-loop, and vocalising around "Just doing my girl-thing", this demo is light and sugary to the last as you would expect, like candyfloss, and impossible to forget.
Short and very sweet, the
Not Evident
EP does what it sets out to do, with little apology and a naivety which is as much part of its charm as its light acoustic riffs and hand-clapping ramblings. Narcoleptic Dancers seem to be doing their level best to combat the weight of reality, delivering to our ears a wealth of blissful meandering tracks which never eek into the darkness of the world that is alluded to in 'Again And Again' and of course, 'Rasterkraut', possibly one of the best features of a really beautiful and concise EP.