Ragweed - Double Chalker EP (Self-Release)
As EP's go, Ragweed's Double Chalker does exactly what it needs to do: it grabs your attention as swiftly as a punch in the face. Each of the four tracks provides a fast paced combination of clear grunge and punk influences, with the result being an energetic style of hard rock. You get a real sense listening throughout the EP that this three-piece band are completely on the same wave length as each other, complimenting each other's talents and style.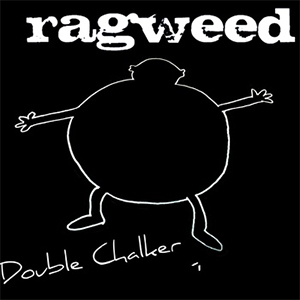 This is made clear by the opening track
Mind Bottling
which reveals a showcase of commanding drumming, truly powerful bass and frenetic guitar playing. It proves to be a fantastic opener for the EP as a whole, as you quickly become introduced to the heavy, filthy riffs which personify this band. Moving into the second track,
Habit
, you start to really appreciate the
Cobain
-esque intensity of the vocal performance. As the track progresses you get a sense of the lead singer's passion, and it pays off, adding an even greater aggression to the performance.
The next track,
New Tricks
is undeniably the standout song. The main riff is captivating enough to keep it rooted in your head for hours, and the small gear changes do not hinder the performance, instead giving it greater character. The middle section leading into the finale of the song is perhaps the most memorable, as it gives off an improv-feel, with a playful and catchy bass line encouraging the drums and guitar to tease back into the onslaught of the main riff.
So we then come to the final track on
Double Chalker
and it is very much more of the same. The drumming performance in
Fat Collapse
is particularly powerful, and much like the opening track this song really helps emphasise the energy and ability of this band. There is no doubt that as you near the end of the EP, you will probably want to give it another listen, each time you do you discover little intricacies you may have missed first time out, but what is completely clear even after one listen, this is a band that has real potential in the live arena.
The songs on
Double Chalker
sound like they were fundamentally built to be played live. You may have clicked this link asking
"who are this band?"
, but do not leave me to tell you everything, go treat your ears to the filthy, scuzzy riffs that is Ragweed.