Plants and Animals - Passed Out From The Waltzing (Secret City)
Some strong moments on Montreal band's diamonds in the rough B-sides collection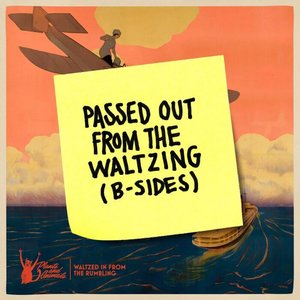 The springtime release of
Waltzed In From The Rumbling
in 2016 brought with it a timely resurgence of energy and charisma from
Plants and Animals
, who fittingly waltzed back onto the music scene early last year. However, the end of the year represented something largely rather different but equally magnificent in its own right:
Passed Out From The Waltzing
, an EP and collection of b-sides from the Montreal trio's fourth studio album.
Matthew Woodley of the band aptly describes the five tracks, "these are diamonds as much as roughs" with opening track 'Green Eyes' arguably just missing out on a spot on the LP. The dreamy number is a swaying epic full of subtly distorted melody and profound drum fills built up upon scurrying acoustic rhythms and the crashes of the cymbals. Its mesmerising latter half suggests anything but having 'passed out from the waltzing'.
Second track, 'The Moon Lay Down' is more befitting of the EP's title with beautiful sliding bass licks, hypnotic resonating guitar and a warbling choir of voices singing "
we won't sleep at all
". 'At Least Until the End of Time' follows in the same ilk and is almost emotionally numbing with the seemingly cosmic whisper of "
if you could be mine, at least until the end of time
".
Alongside 'Green Eyes', 'Newfoundland' is definitely another track of the EP that is absolutely worth your time. "Born during a soundcheck in a big, empty arena while a snowstorm outside kept flickering the lights off and on", as Woodley puts it, the penultimate song is another epic full of brilliantly composed layers. The powerfully recurring bass line booms amidst the flurry of the electric and acoustic guitars and beautifully captures the isolated scene with an eerie fascination.
'Cowboy' rounds off the collection in a far more jovial manner, complete with all manner of brass arrangements and altogether feels far more reminiscent of
Passed Out
…'s parent LP.
Altogether, Plants and Animals produced some cracking music in 2016 and have spent the past few weeks touring Europe with fellow indie veterans, The Dears suggesting that there are only good things in store for the band's return to form.