Peter and Kerry - Clothes, Friends, Photos (Tape Club)
Debut EP from some very promising talent.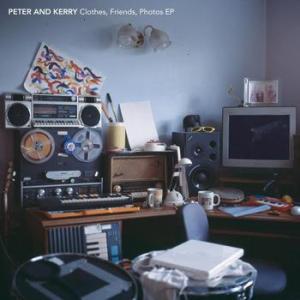 Kerry Leatham, self taught guitarist on three-string, hailing from Colchester, moved to London after being discovered via YouTube by Tape Club Records founder Will Evans. Then introduced to composer and arranger Peter Lyons they collaborated, putting their respective solo projects on hold to produce six dual composed tracks of lofi folk (Kerry's slant) to the cut and paste arrangements to which Lyons is partial.
The result is the debut EP
Clothes, Friends, Photos
, recorded entirely in the bedroom of Lyons' Southampton home, with an intimate low production feel. With their English vocal tones, Leatham's a more dulcet Kate Nash, there is a decidedly girl/boy-next-door feel to their recording: humble, accessible and devoid of pretentious airs.. With Lyons taking vocal lead on the first half of the six-track EP, and Leatham on the latter, the counterparts are built upon interestingly via harmonies, percussion and a diverse selection of inspirations such as Why?, Local Natives, Bon Iver and Philip Glass.
It's the way the songs build up and layer upon one another that is the most interesting element on this release. From the rapping of drumsticks on a table, tambourine shaking, xylophones and clapping, it is a true bedroom recording, using the recording space literally as a sounding board. The opening and title track 'Clothes, Friends, Photos' builds and builds to a rapturous conclusion of percussion, while its literary referencing "I feel like I'm Ted Hughes and you're Sylvia" provides a macabre if rather clichéd simile for emotion. Lyons sombre, "cause I put on love songs and you put on break up songs" says it much better frankly.
Casio keyboards trickle in on 'Half Empty' with its deliberately matt finished vocals, while Kerry's folkier inputs are shown with 'The Shadows' ukelele-led instrumentation. A lovely little recording that builds and ends what feels rather too quickly, though in just the right quantity that the closing track is not suggestive of the EP's failings in 'Crash[ing] and Burn[ing]', instead serving to highlight individual talents we're left feeling eager to hear more from.