Moon Duo – Live at Ravenna (Sacred Bones)
Sometimes dance music comes from strange places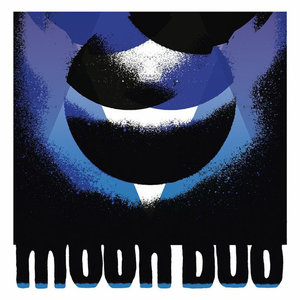 There's a nightclub in my head. One with bright lights, deep fog and repetition on tap. The people don't come to this club for the drugs or the drink, they come for the good times. They come for the mood. And, most importantly, they come to escape. In this nightclub
Moon Duo
are the house band, and they shake the dancefloor each and every day of the Goddamn week.
Live at Ravenna
, the San Francisco groups's latest EP, captures the sound of a band hitting their purple patch with an 20ft iron club. The record drones and dives and pulses towards a simple perfection. It's dance music for the dreary generation. A generation of ravers who prefer to get down than up.
It's been clear from day one that Moon Duo and repetition go together like ice cream on a sweet Sunday afternoon.
Live at Ravenna
does nothing to shake this partnership. Opener 'In The Sun' grinds a groove into your earlobe, one sweet fuzz at a time. It's the sound of the band The Horrors should have been, if they'd stuck to a diet of krautrock and punk rather than gorging on Simple Minds and haircuts.
As with the best dance music, the EP is all about finding your way underneath the beat. No song lets you do this better than 'Free Action'. This banger, and yes it is a banger, thumps and thumps and thumps you into a deep meditation. It's 'Born Slippy' without the lager, building and building towards nothing in particular. There's no light at the end of the tunnel. No euphoria. Just a journey to a glorious nowhere.
Well, not nowhere, after this we are taken to 'I Been Gone'. The poppiest track on the record brings the tunes to the table in the form of Suicide-tinged hit with fuzzed up licks. The track proves that all best music is felt rather than heard. It's all about the pulse, the push of the guitar not the lyrics. I mean, who cares about bloody lyrics? if I wanted poetry I'd pick up a copy of
Howl
from my local Waterstones.
Live at Ravenna
cements Moon Duo's title as the least dance-like dance group of all time. If I ever set that club up, I'll be sure to give them a call. Until then, they'll have to settle for a residency in my brain.