Loser's Way Home - Love Songs For The Rest Of Us (Self-Released)
Inviting set of Americana from Arizona based group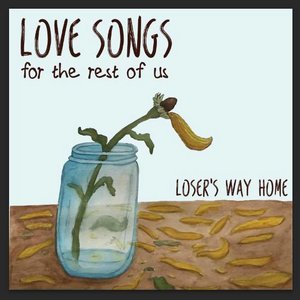 Delivered in a high-pitched, falsetto style,
Loser's Way Home
singer Randall Downs brings songs that make you feel that someone else is singing your life.
As leader of the band, Loser's Way Home, Downs crafts an inviting brand of Americana, lost love subjects, gentle instrumentation, with a confessional bend. Their EP
Love Songs For The Rest Of Us
is five songs that bring the lights down low, paramours close ("Rachel") and even a few times ("Two Step) your boot heels up in celebration. After a couple of previous albums, the veteran band offers diverse instrumentation, a sense of wit and a focus on harmony that makes each song a little jewel of its own.
Now based in steep Country & Western tradition in the desert southwest of Arizona (from their roots in Memphis) Loser's Way Home could use a little grit in their production. A few times over the course of the EP, it felt a little like Randall Downs and the Boys but it's clear, their songwriting skills are top notch and willing to explore.