Joe Con - I Choose You (Self Released)
Dexterous mash-up of hip-hop, soul and country from LA via Kentucky native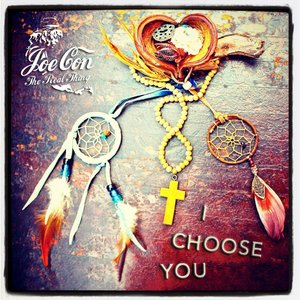 The first line of
Joe Con
's website bio gives the truism: no one is really from LA. I've heard that a few times before, but when I hear Con, a Kentucky boy by birth, I can actually see the seams where those two pieces of patchwork are joined.
I Choose You
demonstrates Con's unique mash-up of genre (for the lack of a better term, I'll call this a mash) part hip-hop, part soul, enough of a down home strain to give it a white-boy, dirty feel. That's the lead track's "Nothing Without You" promise and it delivers some real swagger. Although there is a soulful promise underlying the song lyrically, it's cool, as though the singer really believes the power of his song. That level of ease is common to everything on the EP. In a genre that currently gets by dropping mix tapes rather than releasing proper albums, these are six songs that demonstrate a rare degree of professionalism.
Perhaps the Everly Brothers cover, "Dream" is a little ham-fisted, but it fits his surfer guy aesthetic (actually, I'm not sure whether to call this an actual cover, more a riff on the ubiquitous chorus). I mean really, this is how a guy like Joe Con is going to call his love shot, right? Hey girl, here's how I feel and all I've gotta do is dream 'bout you to get there. At rock bottom, Joe Con comes across as a seriously laid back guy. His raps are a little husky, and his sentiments tender, but he effervesces a degree of cool that's infectious.