Hiva Oa - mkII (part 1)
Belfast outfit return rejuvenated with compelling, claustrophobic new EP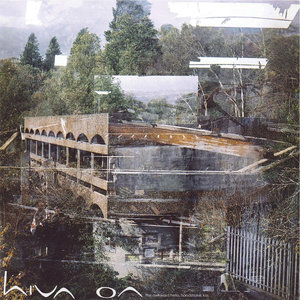 Thunderous new EP,
mkII (part 1)
, marks the return of
Hiva Oa
from a brief dormant spell. The record is full to the brim with deep introspection and tastefully turgid soundscapes, artfully demonstrating how constant creation is almost always trumped by patience and procrastination. It's almost as if moving back from Edinburgh to their native Ireland has imbued core members Stephen Houlihan and Christine Tubridy with a rejuvenated musical mysticism.
Steve Lamacq, who exposed the band at BBC Introducing, aptly concludes: "There's something quite solitary about this...it's one of those records that sounds like it's just out of reach but at the same time it still likes to be loved". However,
mkII (part 1)
's isolated demeanour does not detract from the waves of sound and emotion that emanate from every track. A Great Height is a powerful opener, initiating the four-track EP with a tumbling layer of drums that's followed swiftly by a dizzying distorted bassline. Houlihan's haunting vocals swirl in the mix echoing the twisted line, "
Then I fall from a great height
".
Flowing into 'Seskinore', the continuation of the humming bass and scuttling electronic drum loops provides a backdrop for more delicate vocals, eerily evoking the mood of the small Northern Ireland village of the same name.
However, it's through 'Christine' that Hiva Oa's ability to chill the blood is most prominent. Dreamy swells of synth and faintly screeching guitar, reminiscent of Pink Floyd's finest work, perfectly juxtapose the confessional tones of, presumably, an ex-lover of Tubridy's. 'Christine' is brutally obsessive with "
Why should I stay away from you/I know everything about you
" and "
Your solitude, it was meant for me
": a persona lyrically embodied to make your skin crawl.
'Jonny Brazil' bookends the EP and adds more depth with a more regular beat and a widened vocal range that is bolstered by Tubridy's backing whispers.
Is there going to be a
mkII (part 2)
? Who knows, but the band has massive potential going forward and have certainly found a niche for brooding darkness underlining every essence of what they produce.