Dolly Spartans: Time Sides With No One (Self-Released)
Superior NYC jangle-punk outfit return with new EP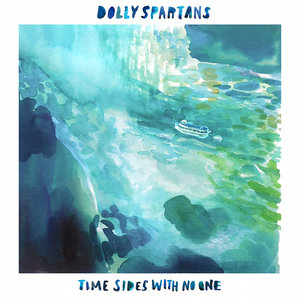 My first impression of the EP title is to agree. My Dad always said, father time is the undefeated and unchallenged champion of all things. But from the sparkling opening guitar lines on the first track, When The Wheels Stop Moving to the new
Dolly Spartans
EP, I realize that axiom is only half correct. You're better off adding in the caveat…. But timelessness transcends everything.
What the New York City four-piece, Dolly Spartans achieves over these brief five tracks is akin to what other bands hammer their heads on for years before finally crumbling like so many Broadway dreams. They capture the heartfelt pulse buried within the core of pop/garage rock, building a timeless quality into every song. On the opener, it's hard to stop the toe tapping and fist hammering on the desk, best not listen at work, at least not with a downer cube mate. Michael Eliran is all over these songs; on Time Sides With No One he serves as the guitarist, bass strummer and vocalist and heck, he may as well grab the mic, don a golden beehive wig and stuffed bra, and sing his own young man rendition of Jolene at the karaoke bar.
Dolly Spartans are not out to craft sloppy summery songs in volume, leaving a sweet after taste in your mouth. Nevertheless, the core of the EP is built around a couple of really chipper tunes, Hanging Out and It's Not Easy. My only quibble comes in the opening of I Hear The Dead but before I could sharpen my Dixon Ticonderoga #2 to scrawl down the note 'flat' the track had kicked over. So scratch that. I hardly have a quibble at all with any of these songs.
Eliran and his mates have five jewels on their hands, good enough to leave me begging for more of the same. Although I am in no way an authority on the canonization of NYC-jangle punk (a la, The Strokes) I can say that these lads will not disappoint, at all.