Blond:ish - Inward Visions (Kompakt)
London based experimental DJ duo's stunning new EP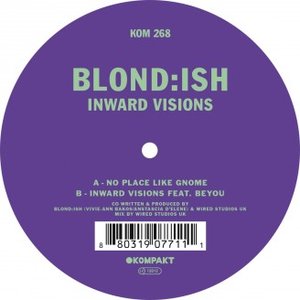 Macabre, penetrating, relentlessly, stirring and evocative, this psychedelically twisted, pair of striking tunes are alive. They are sweating and breathing and raging with their own pulse and vivid vitality, they are animal, they are mercurial.
The first track 'No Place Like Gnome' makes for a very satisfying listen, the collective throng of noises at the heart of it feel like a united herd, defensive, restless and predatory. It transports you to somewhere wilder and hungrier than your actual location, there is a beautiful savagery in the belly of it all.
'Inward Visions' sweeps in with a much less uneasy intro. Delicate judders, arpeggiated dream washes and decisive drums slide provocatively against Beyou's breathtakingly ethereal vocals.
There is a beautifully engaging quality to the music that will either bind you to your chair, lost in a cacophonous coma, unable to breathe as your surroundings melt into the rich and alien landscape; or else it will become the fuel that keeps you dancing all night. Either way it will take you somewhere fantastical, obscure and addictive.
The intricate landscapes that
Blond:ish
build around you seem organic and liberated but there is a definite precision of balance and flawless sculpting of sound. The Montreal born, London based experimental duo Anstacia and Vivie-Ann have had a demanding year with a full on tour schedule and releases on Get Physical, NM2 and Kompakt.
They have a penchant for a good remix with tracks by Pete Tong, Tomas Barfod, Kate Simko and Luca C & Brigante receiving the Blond: ish treatment in this past year alone while their brilliant remix of Maya Jane Coles track 'Everything' available to download from the duo's Soundcloud, adds a depth of slithering shimmering darkness to the familiar vocal line.