Black Yaya - Paint A Smile On Me (PartyFine)
Herman Dune frontman's side-project unleashes EP No. 4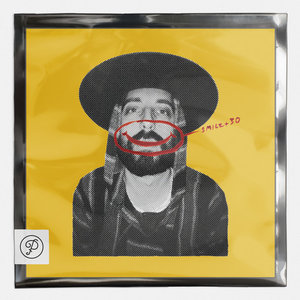 '
If Black Yaya is the offspring of rage and thunder, then it adds fuel to the cyclical rule 'ugly people create beautiful children'. This isn't about negativity or holding grudges, this is about shaking off that grudge match and dancing with the enemy. Even if you don't sleep with them
.'
So! David Ivar, frontman of Herman Dune, has created a new outlet for his epic percussive mind (the above description comes from his website)
Black Yaya
, the purveyor of party tunes, released for maximum energetic output and a little wry 'everything will be OK' observation. Numbered 4 on the chapter output, this EP is small, but packs a punch. With a couple of fresh tunes, and a couple of edits of
Paint A Smile On Me
, one of which is hewn from the skills of the label Partyfine's frontman DJ Yuksek.
Revelling in a post-apopalyptic (yeah, you read right) haven, Ivar creates a semi-retro dance floor filler. It's filled with the breath of fresh summer, but has a weight behind its sweetness and light lyrics. '
They'll have to paint a smile on me/If you won't come meet me
' repeated ad-infinitum as the piano keys slam the pace, feigning a playground of emotions, uncertainty and joy. It brings to mind that genius Wombats lyric '
Let's dance to Joy Division, and celebrate the irony
'. The up tempo synths swirl around Ivar's deadpan, silky smooth vocals. Stripping back the audio to reveal the sweeter feminine backing vocals and tambourine makes the drop a real inclusive experience, as everything slides back into place. Adding a peppering of guitar solo-age nicely cements this as a real genre-fuck.
DJ Yuksek wades in with his Dub edit of this track, and it's not bad at all! With a more pinched take on the main event, its snappier, holding on to the rhythm a little more, echoing snatches of vocals giving you that '
Saturday night dance the air is getting hot
' feel. If you know those lyrics, you are a 90's teen… The irreverent beat lends a more clubland feel, but its sweetness is still used to full effect.
Slowing down with 'Glad Tidings', we are less concerned with genre melting, and more with a funky 70's vibe that make you want to sway and revolve. It has a delicate cadence, with aching electro riffs that act like monochrome finish. The darker lyrics reflect fistycuffs and 'crooked cats', making the choral 'Wait for the glad tidings' seem bitter and tongue in cheek.
Packaging Black Yaya as a purveyor of songs concerned with merciless fight and redemption may seem a little extreme on the outset, though if you dig a little deeper it's those blissful moments and refusal to let the darkness that seep in bring you down that are the clincher. If Black Yaya is the offspring of rage and thunder, then it adds fuel to the cyclical rule 'ugly people create beautiful children'. This isn't about negativity or holding grudges, this is about shaking off that grudge match and dancing with the enemy. Even if you don't sleep with them.