Will Varley - Kingsdown Sundown (Xtra Mile Recordings)
British folk singer returns with captivating fourth album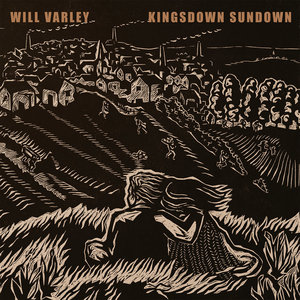 For a man who has been known to tour his music on foot, it's a no-brainer that the words 'passionate' and 'determined' are never far away from describing
Will Varley
's work. Returning with
Kingsdown Sundown
, the British folk singer describes his fourth studio album as "the most honest songs I've ever written and they represent new ground for me creatively. They may not be radio friendly, or even 'friendly' at all, but I've been wanting to make a record like this for a long time".
A pub by the sea in Deal (Kent) provided the backdrop for recording this politically charged and visceral collection of tales and lyrical protests; the bleak and crashing waves of the Channel surely chiming in with Varley regaling the brutal reality of the world we live in. The mood is set from the off with 'To Build a Wall' and Varley immediately ensnares us with his evocative husky vocal chords: '
Out of fear, out of lies, out of money, out of time, out of faith and cannonballs, there's many ways to build a wall
'. But don't be fooled by the sunny acoustic guitar, we are asked the question, 'W
ho owns the cracks between the walls?
' – to which there is seemingly no answer in '
this broken land
'.
'Something is Breaking', as you might expect, further exemplifies the devastation Varley sees in our world. His vocals, full of despair, paint the all-too-true picture of war that is only waged because of the greed of our kings and political leaders even though '
it means nothing to put down a flag where you stand
'. These themes are carried through to 'When She Wakes Up' and Varley becomes the modern-day bard; a graphic and grisly mastery of both words and guitar exude from the singer-song-writer.
Varley may surprise you with the string of intimate and poignant love songs that follow. He even provides us with some hope and optimism found in the solace and freedom of falling in love during 'Wild Bird's '
times of uncertainty
'. However, it's too good to be true as 'February Snow' is laced with unbearable guilt: '
I'm sorry for what I've become, for the things I never say. I took away your youth from you, I locked you in a cage
' and "Too Late Too Soon' is riddled with lost love and heartache suggesting that maybe there never is a right time for love.
Two songs in particular truly sum up Varley's lyrical and musical ingenuity. 'We Want Our Planet Back' is a gritty number introducing a resonant electric guitar with the perfectly satirical lines, '
Another leader with his pockets filled with the money they made from the oil spill
' and '
Another lie in the right-wing papers, another 6 million brain dead readers
'. The dreamy final track 'We'll Keep Making Plans' suddenly fades out, poetically mirroring plans that never come to fruition.
Kingsdown Sundown
is simply Will Varley at his very best. He's right in that it's not a particularly easy listen, but that's simply down to the power and wisdom he carries through his lyrics and yet one listen will make it abundantly clear that honest and thought-provoking music is truly the most captivating.