V/A - This Is UK Grime Vol. 1 (Defenders)
This Is UK Grime Vol. 1 is brought to you by Defenders and serves up a selection of grime which bridges the mainstream with the underground. If all you've heard about grime are the negative stereotypes painted by people in the media who know nothing about it, then this is a compilation which should help shift the balance in favour of what grime is all about.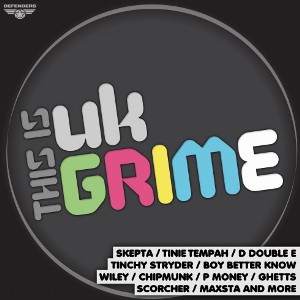 Since the
Run The Road
compilations back in 04/05 (released by 679) when the grime sound was still very gritty and raw, this release could be viewed as a re-introduction to the genre, whereby a lot of grime nowadays has a very polished sound to it, but the main difference between the two eras is that artists from the scene have since had major mainstream success which has heightened interest in the genre from which these artists have come from, especially from labels looking to sign "the next big thing". Artists which have crossed over and have had mainstream hits include Tinie Tempah, Wiley, Tinchy Stryder, Sway Lethal Bizzle, Chipmunk and Skepta who all feature here.
It can be quite difficult to put together a compilation such as this, as is with most compilations that by the time it's released, something/someone new has arrived which makes the release almost redundant, however,
This Is UK Grime Vol. 1
showcases how diverse grime is nowadays with a mix of futuristic sounds, in your face straight down the line grime, dubstep, bashment, R&G (Rhythm & Grime) as well as some more conscious tracks.
Highlights include the massive 'Slang Like This' featuring P Money, the chilled out and potential cross-over smash 'Runway' by Nu Brand Flexxx, the N-Dubz aimed 'Shut Up' by Fire Camp, the back and forth link up between Badness and Shizzle on 'Tarzan', the Nero-produced 'This Way' by Blacks, arguably the biggest version of SX's Wooo Riddim 'Bad 2 Tha Bone' by D Double E, the mental 'Hardest Grind' by Roll Deep members Flow Dan and Wiley as well as the intense and dark 'Nightmare' featuring Badness, Skepta and Little Nasty.
Regular viewers of Channel AKA will recognise a lot of the tracks featured on the compilation and it's a shame that some of the tracklisting appears somewhat obvious. It would have been great to have seen artists like Dot Rotten included and also Devlin (who's F64s alone blow away a lot of the tracks featured here).
Up and coming artists get a look in but not including artists like Dream McLean is a crime as he's definitely part of the next generation coming through.
There's also a real lack of female artists with Mz Bratt, Ny and Lauren Mason being the only three featured across both discs which consists of 40 tracks. There are so many great female artists like Ms. Dynamite, Shystie, Lioness, Lady Leshurr, No Lay, Envy, Stush, Tor, Pariz 1, to name just a few who are all putting in a lot of work and it's a shame not to see the females represented more.
There are no real exclusives here either and in a world of grime artists releasing free downloads and where grime's target audience just settle for radio rips without supporting the artist/producer by purchasing the music, it would have been nice for this compilation to have had something which is specifically relevant to this release. That said, even if an exclusive was featured, it would have probably been downloaded for free from an unofficial source but for those who support the music and wish to buy the release as a physical record or digitally, it's always nice to have.
It would be ridiculous to assume that the label behind this release could please everyone and even having pointed out its weaknesses, this is not a
Now That's What I Call Grime 2010
styled release; in fact far from it. It's more of a broad introduction to those who are not familiar with just how brilliant grime can be and a celebration of how far the genre has come ever since it's conception in the early '00s. Bring on volume two!