V/A - Ninja Tune XX (Ninja Tune)
Mammoth special collection celebrating 20 years of one of our favourite record labels.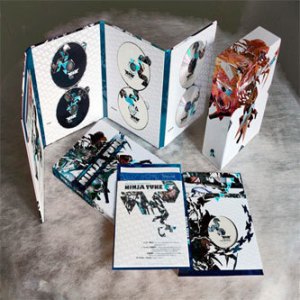 It's official. Ninja Tune is twenty years old (twenty years strong!) and the label, formed by Matt Black and Jon More (aka Coldcut) have released this stunning six-CD compilation of exclusives and remixes. It's worth addressing at this point that this release is a music collector's dream and as if six CDs just weren't enough, the overall package includes six 7" singles, posters, a sticker sheet as well as the "Ninja Tune: 20 Years of Beats & Pieces" book by Stevie Chick.
The additional merchandise will clearly reward the hardcore supporters of the label but in essence, it acts as merely a bonus, as the music rightly allows the imprint to boast its hugely impressive array of artists and producers. The first track of the whole compilation sets the tone in exactly the way you'd expect with 'Fools' by Two Fingers; a gritty, bassy instrumental that you'd envisage the label's head honchos to be standing and saluting to at their meetings. It would be unfair to highlight every single track which is bound to grab your attention but expect several appearances from Roots Manuva, one UK Hip-Hop's most recognised figures, as well as cameos from Ms. Dynamite (who is on the rise once again) on the Toddla T-produced 'Want U Now' as well as Roll Deep members Killa P and Flow Dan on the chilling Autechre remix of 'Skeng' by The Bug.
Ninja Tune state that they've put together a futurespective, rather than a retrospective, and although this would have been a perfect opportunity to save (disregard) their recent signings for another compilation, we get glimpses of the label's next five years and beyond with short, sharp bursts from artists such as DELS and Jammer. Those on remix duties include the likes of Diplo, Joker, Flying Lotus, Mala, Dan le Sac, Hot Chip and Benga, and although that's a highly impressive list, it's the track listing itself which really makes this a success. It boasts names ranging from The Cinematic Orchestra to DJ Vadim and from Bonobo to the Floating Points Ensemble. As stated earlier, it would be really unfair to highlight specific tracks but with each disc, you could want to get up and dance one minute to wanting to sit down and relax the next.
The dedicated fans will probably only see the benefit of owning such a vast amount of merchandise available as part of this release but for everyone else, the CDs alone show just why Ninja Tune is a very special label.
Ninja Tune XX Box Set Previews (CDs 1-4 only) by Ninja Tune XX