Two Gallants: We Are Undone (ATO Records)
San Fran based Americana duo return with sparkling fifth album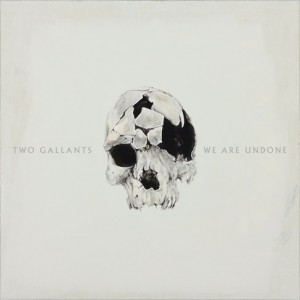 Just over one hundred years ago, James Joyce's nine year battle to publish his short story collection
Dubliners
finally came to fruition. The fifteen stories combined to tell the story of working class turn-of-the-century Ireland, offering an overview from childhood to old age. It is the sixth of these stories that gives its name to the San Francisco-based duo
Two Gallants
. A short glance over the lyrical content of their back catalogue and it seems especially fitting that their namesakes were a pair of nefarious conmen, seducing a maid into thievery.
Two Gallants
revel in the darker side of being and while arguably best known for a wrapping said dark side in neat alt.country/blues rock songs such as 'Steady Rollin'' and 'Despite What You've Been Told' this latest release develops a heavier edge birthed on their last ATO release
The Bloom and The Blight
. It is schooled in the groove of Dixie rock, the pace of Delta Blues and the restraint of plaintive folk. It's a grunting, lolloping two-faced beast.
Now, it's going to be necessary to take a little time over this record. It's a grower, which is an important thing to know, as it would be easy to make lazy assumptions of aping the likes of The Black Keys, Jack White and Black Rebel Motorcycle Club. But those are not bad musicians and there is no wrong in conjuring those names. On early listening you might be forgiven for thinking the intricate song writing of previous Two Gallants records had been replaced with coarse bluster and a cranked valve amplifier. That's far from the case.
Perhaps it is most evident when the sound backs down but there is a real humanity evident throughout here, fragile and well-considered lyrics work away over deconstructed guitar parts bathed in echo and drums that fill out the mix through perfect placement and deft subtlety.
'Incidental' offers the duo at their twisted best with the opening lyrics "
Met your Mother at the hospital…
" croaked over fuzzed up Cowpunk. More songs should be two minutes twenty-nine of thrashy chords, crash cymbals and references to hanging.
'My Man Go' is where it all seems to really settle in – it's crystal crunchy guitar doom, sinister in its scarcity. As the chorus builds and swells Adam Stephens' vocals are melancholic, backed by mellow howls and thus begins a trilogy of tracks that justify the cover price alone. 'Katy Kruelly' is a classic acoustic narrative and 'Heartbreakdown' is the smartest arrangement on the record, with minimal percussion panning around the mix as a slinky guitar pattern compliments a vocal melody straight out an early Springsteen record (which is a good thing because Springsteen
is
good but that's a matter for another article).
The penultimate 'Murder The Season / The Age Nocturne' meanwhile gives one last reminder of the crushing bipolar sound that this two-piece offer and it will sound even better in its raw live embodiment.
Two Gallants tour the UK in February:

Friday 20 February – Manchester – Gorilla
Saturday 21 February – Glasgow – Stereo
Monday 23 February – Leeds – Brudenell Social Club
Tuesday 24 February – Bristol –Thekla
Wednesday 25 February – London – Islington Assembly Hall