True Cross - Pure Divorce (Seeing Red Records)
Immersive set of hard-edged shoegaze/post-rock influenced cuts from the Arizona group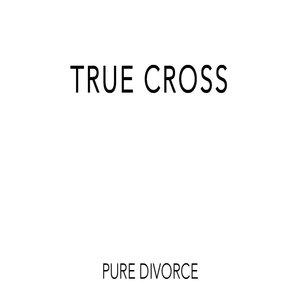 From the first feedback drenched sound burst off
True Cross
' newest record, an evisceration of heart and soul on brash display. Make no mistake: in spite of the expressive lead,
Pure Divorce
is a hard rock record, uniquely littered with riveting, visceral emotional cues resembling bloody ends of life, love and fidelity.
Musically the quartet of heavy metal and punk veterans successfully fuse core elements of classic rock, ambient shoegaze fuzz, ferocious post-rock guitar noise and a characteristic weary vocal style to create something entirely their own and there is hardly a moment that isn't capable of extracting your breath. Only what seems to separate True Cross from their heavy brethren is an exacting patience in song craft that would just as soon coax it out of you that steal it outright.
Most curious, after repeat listens, is how the sixteen tracks on
Pure Divorce
seem to wind around a chord progression that feels a heck of a lot like the instrumental lead to The Beatles' I Want You (She's So Heavy) as thick a riff as those fab four Brits ever laid out. The torment John Lennon evokes over that song's seven odd minutes is alive here (only over a much longer, more ambitious span) the life lived out of reach, an evanescent love fades, the idea of unity only sand.
The more contemporary analogs are a greater challenge to arrive at; I kept hitting on
Earth
, the terra firma worship in their progressions is suggested heavily here. While not quite as heavy as that band, True Cross shows a willingness to interpret heavy music and deliver something fresh. The band recorded
True Divorce
often in sessions taking place in different states, different studios but the warmth and iciness it exudes belies that reality. It's sound is cohesive and taut. Without careful engineering by studio guru Brad Wallace, those disparate sounds may have been lost but instead what comes through is an album that is tense at times, soaring others and always tied to a signature mode of operation.
You can put
Pure Divorce
on the turntable and dip your toes in the waters. I'm saying it's possible but it's also an unlikely outcome. This is best as an immersive listen, built on your opening up and allowing it to lay you bare.