Truckers Of Husk - Accelerated Learning (Shape)
Long-anticipated debut album is well worth the wait.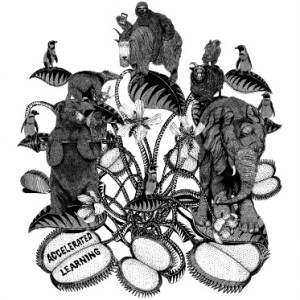 There's a certain irony in
Truckers of Husk
's decision to name their debut album
Accelerated Learning
. For those of us who've been following the band for years, a little more speed in releasing this record would have been greatly appreciated. Despite a frustratingly erratic approach to live shows, the Truckers have built up a surprisingly committed following. For the faithful,
Accelerated Learning
's overdue appearance in the wild is something of a big deal.
A long gestation isn't always a great omen (Hi there
Chinese Democracy
!), but in the case of
Accelerated Learning
, the opposite is true. Some of the tracks here, such as album closer 'The Choir Song', have been in the band's live set for years. These older numbers nestle alongside more recent additions, such as the thumping 'Dear Malcolm Sullivan I Hope You're Alive?', making
Accelerated Learning
both a debut album and almost some kind of greatest hits collection.
Of course, all this would mean nothing if the songs didn't deliver in the way they undoubtedly do. Aptly, 'Brace Yourself For The Secrets Of The Juggernaut' is an absolute monster, complete with infectious chant-along choruses and some unstoppable bass clatter. The ambient wash of 'Down and Out…' couldn't be more different, its squelchy synths slowly building into something quite euphoric. And if the twinkly duelling guitar lines of 'Awesome Tapes From Africa' don't bring a big stupid grin to your face, there is the strong possibility that you may be dead. Please consult your physician immediately.
It's the sheer variety that impresses here. Some tracks have vocals, some don't. Delicately finger picked acoustic excursions sit comfortably next to songs featuring crazed bellowing about living in rubbish bags. While every tune is unmistakeably a Truckers of Husk joint, there is absolutely no formula and
Accelerated Learning
is all the better for it.
Maybe this range is another by-product of the album's protracted genesis, but it is a feature that should assure its longevity. Some records are so clearly of the moment that you know they're going to sound horribly dated in a fairly short amount of time.
Accelerated Learning
, while undeniably contemporary, seems to exist outside current trends and will likely still be on record decks and iPods many years down the road. However, if any members of the band are reading, this, it doesn't absolve you of the responsibility to deliver a follow up sooner rather than later.