Treetop Flyers - Palomino (Loose)
The spirit of 70's L.A. is deftly handled by the London 5-piece on their second outing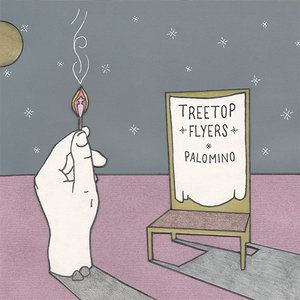 Before we weigh into this latest
Treetop Flyers
release let's just take a moment to talk about how good of a label
Loose Music
is:
Loose curate one of, if not the, finest Americana roster in the UK right now. Andrew Combs, Sturgill Simpson, and The Handsome Family are just an offhand selection of the artists who continue to uphold the ace reputation of Loose well into the label's fourth decade. Combs is a songwriter of hyper-rare drive and craftsmanship; Simpson pioneers the frontier of country music experimentation; The Handsome Family manage to make the most morbid of subjects palatable and beautiful.
So, what do Treetop Flyers contribute to this fine stock? Well… they've produced a very, very nice-sounding country-rock record. For the most part
Palomino
is calm, controlled and glides freely right down the middle of the road. When the pace picks up and the arrangements become a touch busier is when the record really steps up though; It's a Shame and Wild Winds have big ol', driving refrains that conjure images of sweeping crowd-scene montages at a major festival of your choosing.
The more upbeat moments are not the only occasions where the record shines though, St. Andrew's Cross is a beautifully recorded acoustic ballad with crisp and close steel string and tight vocal harmonies. There is plenty of Crosby, Stills and Nash in there but the delivery has a more contemporary, fragile character. Even more affecting is the glorious mess of noise at the end of Never Been As Hard where the sparse slide guitar ballad gives way to resounding, discordant piano notes that tumble and clatter their way into the album closer, the aforementioned Wild Winds.
That a British band playing countrified soft rock should have a transatlantic sound should be no damn surprise to anyone, but the depth of this cultural merge is built into the entire process of the record. The songs were committed to tape at Soup Studios, the parquet-floored east London gem used by Darren Hayman, Joanna Gruesome, and Let's Wrestle, among others. Once the sessions rounded up the tracks were sent over to L.A. for a dose of that Laurel Canyon mix down treatment from Jonathan Wilson, who recently worked on Father John Misty's
I Love You Honeybear
and Conor Oberst's
Upside-Down Mountain
.
Soup Studio's emphasis on group recording (rather than multi-tracking) and Wilson's expertise in balancing lush, warm soundscapes make for a perfect partnership in bringing legitimacy to the west coast vibe that Treetop Flyers co-opt as there own.
While some listeners might want for a little more of the experimentalism of 70's US pop, what Treetop Flyers have created is a warm and enjoyable record that should be well received by Americana fans on both sides of the Atlantic.