They Might Be Giants: Phone Power (lojinx)
A victory for quantity over quality on the third and final installment of the indie stalwarts Dial-A-Song project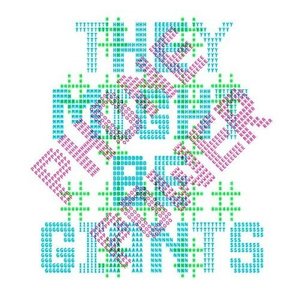 One might conceive of Brooklyn's
They Might Be Giants
as a band whose hook lies primarily in their wry lyrics. Sure, their curious instrumentation and breaks with songwriting convention provide are appealing, but it is really in how childlike John and John see our complicated world that their fiendish audience revels.
If there is a third leg to that appeal though, it's how cleverly TMBG has built this rambling fan base over their near four decade romp through independent music. They appeal to children, to smart listeners… to the children of smart listeners, and they've achieved this by putting themselves in front of their audience in whatever way possible. On social media, they're active… they find themselves featured on staple children's programmes. And all along, before there were other such venues, there was Dial-A-Song. Call in. Hear a new TMBG song. If you call from work, it's free. I always call from work.
The eighteen songs on TMBG's new record,
Phone Power
are all billed as products of that still vital Dial-A-Song, an arena in which the band has released a song a week for a year, a feat that would be considered productive for anyone. In that time frame, the Johns have certainly crafted some great tracks. If you needed proof that success hasn't sanitized their penchant for weird, Sold My Mind to the Kremlin opens with clumsy, fat bottomed keys and centres on nonsense cultural associations, including the brilliantly catchy line '
With no place in the processional/and no seat in the convention hall
' (I've been singing it since I got the record…). The strange refrains on Impossibly New a two-minute track packed with rich riddles and harmonies and lines like, '
As we gather round the campfire/telling tales of local vampires/don't get scared/of the shadows over there
' we get a feel for that geeky generational appeal.
Later on in their careers, TMBG started crafting really tender, one of a kind love songs, and To A Forest is one of the best in that genre, dealing in bittersweet terms about being adrift in a muddled, lost love scenario. One has to adore their math rock cover for the Onion's A.V. Club of Bills, Bills, Bills by Destiny's Child, one of the truly unique interpretations of glossy, cookie cutter pop music that you will ever have an opportunity to hear. That as well as a few of the other songs should be familiar to TMBG fans, such as Apophenia which was a delightful staple on their last tour.
This wasn't my favorite TMBG album though. I'll go out and say that. I have conflict with how this record (and the whole Dial-A-Song concept) seems a triumph of volume over craft. With a phone call, you're in for a penny. On an album, the proverbial pound and these don't quite weigh out. A few times I felt like the song was wholly incomplete. I Am Alone could go back for seasoning with pale melodies and what sorts out as conventional instrumentation. On Say Nice Things About Detroit, although satisfyingly off beat with creeping and twisted guitars, there is a glaring lack of 'it' factor, no verbal hook that puts it up into the TMBG stratosphere. Overall, the production translates as flat too, notable on Trouble Awful Devil Evil and It Said Something where elements comes across as muddy and grey.
On concept,
Phone Power
is a tribute to where the band has arrived. They're here and they are uncompromised. There are quite a few great songs here that should end up on any TMBG mix-tape but this doesn't add up to an essential recording.
They Might Be Giants Links