Thee Silver Mount Zion Memorial Orchestra - Fuck Off Get Free We Pour Light On… (Constellation)
In light of the Montreal band's latest release, Allan Judkins tries his damnedest to find a synonym for 'epic'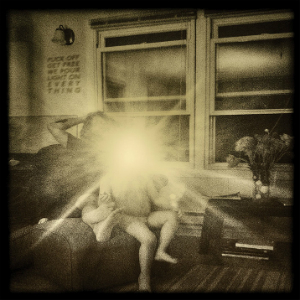 A child's sentence, "We live on an island called Montreal, and we make a lot of noise because we love each other," is the first audible experience of a behemoth six-track album, one of which clocks in at around 50 minutes. This is before the refreshing wash of guitars so distinguishable between TSMZMO and any other band in the universe enters fully, without delay (but with delay, if you follow). From this moment on in the opener 'Fuck Off Get Free (For The Island Of Montreal)', the realisation already kicks in that through the duration of writing this review there will be a severe struggle to avoid the word 'epic'.
Not that this has been an action of late, but since downsizing the ensemble to five members, the band have nailed the panoramic soundscape which was more than expected to be filled out. A duo of violins along with
Efrim Menuck
's signature guitar tones complete a cinematic timbre - there are even sprinklings of synth peppered around the album to add that extra touch of magic within the ether.
A rare opportunity it may be, but there are enough tracks on this album to mention every one (in no particular order, mind).
Fuck Off Get Free…
increases with awe on every listen, as does every other outing by this group. The main refrain on 'Take Away These Early Grave Blues' is a strong, heavy slab of sound that unleashes grandeur and shows that it is possible to produce something monumentally groundbreaking and enchanting while all the musicians are playing exactly the same phrase. Additionally, this track helps perpetuate the fact that lyrically,
Silver Mt. Zion
, are not really for the emotionally fragile. Quote: "All our cities gonna burn, all our bridges gonna snap, all our pennies gonna rot, lightning roll across our tracks, all our children gonna die". Understandable if any listener feels the need to stick on some
Chas & Dave
afterwards to restore the comfortable balance of emotions, but it's to be truly applauded how these lyrics convey societal struggle in an anthemic approach rather than a preachy one.
'Austerity Blues' is a mountainous journey of a song - an expedition if you will - fiercely crashing with remorseless energy once we reach the summit. Howling fiddles and brutal drumming help bring it up to the brim, complete with the lyric, "Lord, let my son live long enough to see that mountain torn down," echoing throughout. It's an interesting layout as we are subsequently brought from the very peak only to see it collide gracefully into a valley of strings and decaying guitar effects… until that haunting vocal line holding the track together like a spine (yes, a tingling one) reappears and reiterates its significance until the fourteen minutes end their arguably due course.
There are two tracks that cater for the less earth-shaking end of the SMZ spectrum. 'Little Ones Run' is a delightfully retiring lullaby, presumably sung by violinist
Sophie Trudeau
. Unnerving shifts in the scale bode well with the dark nursery rhyme-esque twist to the lyrics and bring out the feeling of being in a poorly lit room sheltering from a rainy afternoon, looking out of the window. End track 'Rains Through The Roof At The Grade Ballroom (For Capital Steez)' is rich in smooth, ethereal texture and rife with war-torn cries of "hold on", setting a more than sombre mood to see the album off. 'What We Loved Was Not Enough' comes across as a more well-hearted way to wrap things up. It's a reflective piece of melancholic lyricism floating over beautiful weeping string harmonies and their oh-so passionate group chants, all together in a perfectly shaped wave of music. You could well argue that this is the most joyful Silver Mt. Zion have ever sounded.
Call it what you will, whether apocalyptic post-rock, chamber punk or protest-prog, Fuck Off Get Free… is a quintessential artefact of a thoroughly progressed band now well into their second decade of existence, showing countless signs of maturity, cohesion and freedom. Compared to their last album,
Kollaps Tradixionales
, they seem much surer of themselves and respectfully dissect their sound and place it further away from their
Godspeed
siblings on this stunning effort. The strong repetition of parts creates a resonation of Silver Mount Zion left relaying in one's head for hours and hours subsequent to even the first listen.
For best results, play this first thing in the morning, and have an epic day. Ah, damn...