The Youniverse: CMYK (Self Released)
Non-disposable pop from the Slovakian outfit incorporating hip-hop, surf and blues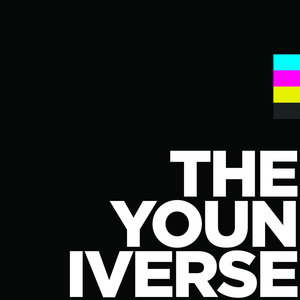 Take one look outside of your window. It should be obvious that we don't live in a pop music world. The world is too scary. Ideas of buoyancy sink like a stone. All of this, of course, is dependent of what window you're looking out of. For
The Youniverse
, the medium of pop music is used as an abstract, the barest convention with which to craft memorable gems.
The Bratislava foursome forms a pop and world bouillabaisse out of elements of rock and hip-hop, as well as folk aspects like surf and tribal. The title
CMYK
refers to Cyan, Magenta, Yellow and Keyblack, a series of colours that are used to organize the sixteen tracks into four groups of four. The record wastes no time showing it's strutting stuff on Silver which opens with pulsing bass line with a greasy, midnight guitar line, which then bleeds over into the groove driven, diva street tracks, Har(d)b(r)inger and Nightmare.
The intention behind the colour distinctions seems to be to create the idea of the album as more like four EPs. This requires a bit of imagination, but it could work on certain listeners. If Cyan, the first four, lean on the urban influence, Magenta is the album's darker side where Breathe shows off singer Tammy Nižňanská's captivating vocals, and Riverbanks stretches back to old time, down by the river gospel style. On the first Yellow track, Strange Love the twilight beats leer about seductively with her voice oddly masked by a vocal affects, which is mistake. Seeing how much allure she has, anything in the way of making that connection should be abruptly yanked.
The best of these four yellows, Three Little Monkeys is another dirty blues with the album's coolest vocal. This is The Youniverse at their best – stalking, urban, fashionable. In the end, Keyblack is what you would expect, CMYK's little nest of secrets, led off with the bluesy little western guitar instrumental, If God Would Give and followed by the thumping, dystopian dance heavy beat assault, Ammo Box which features harried shouts and screams, maybe the album's one moment of overreaching excess.
Pop music is not meant to age well, but my sense, however, is that
CMYK
could stand up to the test of time. Like the plastic it's often compared to, pop is meant to toss around before getting tossed to the kerb. But this album isn't exactly disposable. Taking its inviting range of sounds and emotions, and its spot on sense of itself, The Youniverse is a band that almost immediately bears close watch.
8/10