The Smittens – Believe Me (Fika)
Ten-year veterans of the indiepop scene The Smittens released new effort Believe Me to mark their anniversary. Hailing from the New England state of Vermont (probably more known for its bridges and ice cream than its music), the five-some have consistently astounded with their overtly positive and uplifting acoustic-indie, self-described as 'sunshinepop'- and rightly so. The group's light vocals and delicately sweet melodies evoke visions of calm summer sun, and the happy-go-lucky songs are a welcome addition to the celebratory British summer.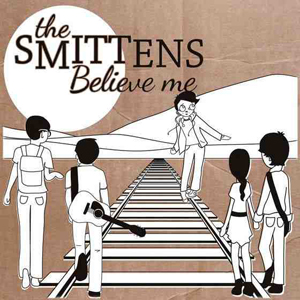 Featuring bubblegum piano chirrups which could be ripped from the soundtrack of The Sims, and surf-rock guitar which could be inspired by recent twee-pop act Best Coast, opener 'Typing, Texting' bobs along with grace, with a range of backing harmonies happily ooh-ing and bom-bom-bom-ing. It's full of human imperfections which just make the act even more quaint, and there are times you can't resist grinning with elation. 'First Bus' is a carefree romp through coy synths and jangling guitars - a frivolous trek about nice guys finishing first. This is the musical equivalent of putting flowers in rifle barrels.
It's hard to listen to The Smittens and not connect the dots between them and influences The Magnetic Fields - there's more than a hint of that trademark sound - but that doesn't detract from the individual spin that the band have put on the tried-and-tested genre. There's heaps of character and plenty to enjoy on this neat little bundle of joy.
'Dream World' ramps up the pace, focusing on a retro, fifties style of music with doo-wop backing and child friendly rock 'n' roll. The thundering baritone vocals and quivering tune could be ripped straight from the back catalogue of The Crew Cuts or Marty Robbins, and it's a stylish digression from the standard saccharine kiss of The Smittens.
There's no shortage of sincerely great indiepop acts emerging at the moment - Slow Club and Hospitality to name a couple. There's a reason that The Smittens have continued so strongly for so long - each and every song they write is a rampant musical pleasure - they could force a smile on the sourest face. 'Believe Me' is a delightful album, perfectly timed for the sunshine and full of that summertime innocence. Grab the physical copy over the download though - limited to only five hundred copies, the clear 12" vinyl comes complete with a recipe for cider glazed doughnuts and some rooibos tea. They don't come sweeter than this.