The Scaramanga Six - Cursed (Wrath)
Cursed is in danger of being a 'for-fans-only' release.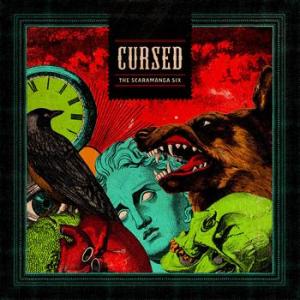 The Scaramanga Six
are immortal. Or at least they haven't died yet, so it's still a possibility. For the best part of 15 years they have been recording, releasing, promoting and relentlessly pumping the unforgiving, underground music scene. With the digital age still several years away, they were DIY before the phrase existed outside of retail parks and remain an example to all young, aspiring bands of what can be achieved by listening to your fan base and working bloody hard.
Back to the present and their seventh studio album
Cursed
is much like its predecessors in that it will likely split the audience right down the middle. Existing fans will see this as a full, lush and expressive record with a deliciously, dark humour in its lyrical content and a feverish energy throughout.
The problem for newcomers is that
Cursed
attempts so very hard to be progressive but totally fails to ever actually explore any new musical ideas. It's never a good sign when the songs on an album feel seven minutes long but rarely exceed four. This is due a combination of being overly complicated yet profoundly dull. Yes, the lyrics are occasionally witty but when you throw enough shit at a wall, you end up with a large percentage of tired clichés… or something like that.
It's not that The Scaramanga Six aren't very talented. There is more than a touch of Costello about the Morricone brother's vocals, and the growling guitars are not unlike Prog-Rock grandfathers Focus. In fact, you couldn't make this record without being exceptionally good at what you do. It is genuinely impressive in places but, as in all walks of life, if you try extremely hard to impress, you'll probably end up trying too hard. The band should be applauded, but unless you were there from the start, this album should probably be avoided.