The Rebs - In A Heartbeat (Echo Deco)
Award winning band give you a lot of what you may already know.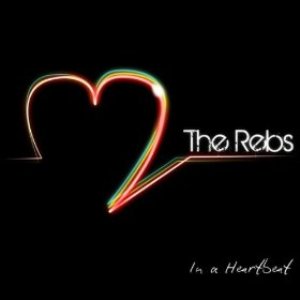 After winning Road To V in 2008, it would have been easy for The Rebs to let the hype run away with them, yet their debut album
In a Heartbeat
showcases some of the best Indie-Pop songs to be heard this summer. Music professionals from SONY/EMI and Virgin think so too, awarding their 1st single release 'Don't Fool Yourself', "Best Pop Song" and "Best Overall Song" at the Exposure Music Awards earlier this year. Since Road To V, the Southampton based quartet have been busy writing potential hit after hit, releasing the album on Echo Deco Records in May.
There is an obvious combination of influences in the songs, with 'Flesh & Bones' reminiscing the swagger and style of early Libertines, whilst Kasabian-esque driving vocals and guitars are juxtaposed with warm, gentle pad sounds emanating from keyboardist Vicky Averre-Beeson. It's no surprise that Carl Barat is already an avid fan. 'Would I Remember' introduces us to the anthemic guitars and hoarse vocals of lead singer Russell Edmonds that are so predominant in this album. Edmonds voice really begins to growl and show true potential towards the end of 'Happy Face', achieving a rasping tone that grits up the sound. 'Keep Smiling' has all the ingredients of a classic Oasis hit, reworked and dramatically produced by Rebs bassist Nader Razaie, and will be a definite crowd pleaser when they play Bestival later this summer.
'Don't Fool Yourself' features a distinctive pop chorus, and you can really see why it won the "Best Pop Song" at the Exposure Music Awards; an electrifying song that entices their audiences. For many though, it will be suffice to hear this song alone, rather than waft through the whole album of similar material.
Nonetheless, the song-writing talents of the band can't be denied, and are exposed further more with the acoustic ballad 'Silver Lining', and the title track 'Always In A Heartbeat'. The latter features an incredibly explosive chorus, and one begins to see why The Rebs contagious indie guitar-pop has been proving so successful. However, their use of electronic effects in some of the songs feels gimmicky rather than musical, and seems somewhat like a cheap and amateur attempt to make the band stand out from fellow peers, but they really don't need it; Their songs instantly feel familiar through memorable choruses and melodies, and one might suggest that these electronic features really drag down the bands professionalism.
The thumping drums in 'Superman' push this mediocre song through towards the final few tracks of the album, where unfortunately the quality of the songs aren't as great as the promising singles of the first 5 or 6. Fans of The Rebs will no doubt disagree, but realistically these are album fillers, not radio hits.
A hidden track at the end of 'Leave It All Behind' rounds off The Rebs hard work put towards their debut album and there are some real hit potential's for the summer, but it's hard to imagine them establishing themselves as chart-toppers in the future. The Rebs sound and feel like you've heard them before, because you have, in every other Indie-Pop band since the 90's. If you're looking for something with an interesting concept, or more meaningful art, look elsewhere.
In A Heartbeat
is a pop album through and through, but for the moment, with summer looming, their music is enjoyable and fun, and in contrast to a lot of the music dominating the charts, The Rebs feel like a real treat.