The Proper Ornaments: Six Lenins (Tapete)
Cult London outfit return with an excellent fourth installment of psych / jangle pop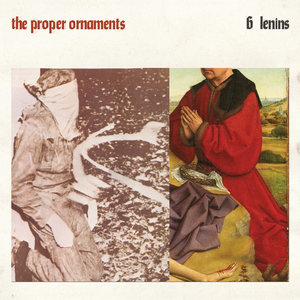 The Proper Ornaments
are a London four-piece, whose latest album,
Six Lenins
is chock full of an eerie brand of psychedelic, jangle pop that is among the best in their career.
Opening up on the mellifluously somber, Apologies the band shows two key traits of their drowsy appeal. Their vocals are haunting and suggestive like a darkened hallway, and the soft, rolling beats drum in a deeply meditative beat. Turning over an even more melancholy leaf, the hushed, Where Are You Now begs the listener into a state of nocturnal reflection and near effortless, emotional reconciliation.
A few times on Six Lenins the band leans on summery, 60's psychedelic rock standards. Please Release Me is splashed with all the enviable Byrds-era, California sunshine that a London boy could possibly dream of. Similarly, Bullet From A Gun leaves me in a loving reverie, wonder state. While the title track suggests a political orientation, the leave behind is thrumming and layered with vocal harmonies so delicious, I giggled. Far and away though the song that I cannot get free of my imagination is Old Street Station which fuses nostalgia with gleeful light-heartedness.
Absorbed as a whole, Six Lenin is an album riddled with feeling. I've played it on a Sunday morning and felt the whole house sop up an ever-present calm. Like a good novel, or a first date you don't want to end, there are rare instances when the Proper Ornaments draw a line what's going on. Its effect is clear, but the mechanics are deftly obscured. Instead, like on, Can't Even Choose Your Name the slumbering lyrics and gentle percussion force the listener into a peculiarly welcome state of isolation.
4/5
The Proper Ornaments Links