The Mantles - Long Enough To Leave Home (Slumberland)
Back with their second studio album, The Mantles show us what it is like to live in their world of torrid breeziness, fuelled by excelling riffs and simmering lyrics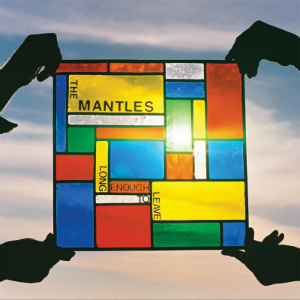 Have you ever seen that film
Adventureland
? With
Jessie Eisenberg
and a marginally more emo
Kristen Stewart
thwarting small town boredom by working through summer at a budget theme park in the 80s. This record perfectly captures that youthful air, thick with a discordant view of what the world should be contrasted against what it actually is. The film's soundtrack is decent, too; chocka with
The Velvet Underground
,
Bowie
,
Lou Reed
and
The Replacements
amongst others. This is what
The Mantles
have managed to encompass with their flighty
Long Enough To Leave Home
, alive with effervescent riffs, staccato beats and low-slung vocals. It's a little bit punk and a little bit alt-folk with a dreamlike quality thrown in for good measure.
'Brown Balloon' navigates their San Franciscan roots, with its buoyant strings opening up space between drum beats,
Michael Olivares
' at times Gin Blossom-style vocals lazily infiltrating your mind. The choral instrumental of the strings has a descending quality that acts as a refrain in the narrative, as they muse, "this is happening to someone else". It's this sort of 'Carpe Diem' attitude that colours the record, even if they don't state it outright. In moments on 'Raspberry Thighs', you can hear the urgency rifling through laid-back tones and semi-clipped beats. Its smoothness, tinted with a jarring quality, holds a resonance that makes you sit up and take notice.
Album opener 'Marbled Birds' is similarly ruptured by a discordant element, yet framing a more effortless calm. Softly tumbling strings, fringed with a more fractious bar gives energy while lyrics "going to suit ourselves" state that they don't give a fuck. The raw quality of 'Hello' creates this mood, putting you in mind of garage bands in the mid-70s as they shout, "Hello, maybe you can help me get outta here...reappear somewhere else". This yearning for the "winding road" is captured in the open, loose drumbeat, more expanded than in other parts of the record.
'Don't Cross Town' undulates as cleverly placed snare bumps interrupt the natural rhythm, feeling like taking flight or a tumble. The almost Lou Reed-ian timbre of Olivares' deep vocals is arresting. Similarly, his American drawl in 'Bad Design' is pitched at the same level as the instruments, offering a washed-out effect as deep resonating vocals entwine with the bass notes to form an interesting reverberation. These little moments of playful darkness are what texturise the record, offering more than the simple lightness.
Title track 'Long Enough To Leave Home' unfurls in a partitioned set of riffs that elevate your mood and make your blood sing in an odd way. Bittersweet with twinkling keys and choral lines that seem to stretch toward you out of the speakers - this in particular abundance on closing track 'Shadow Of Your Step'. It feels more fatigued, lyrics "Let's have a look at what you've left behind" softening the
Pulp Fiction
-esque guitar. It is a nice finisher, differing from the bulk of the record and acting as a sobering, more mature piece.
Long Enough To Leave Home is a collaborative effort, speaking almost as a tapestry of culturally learned offerings, and the effects these have had on a group of young talented musicians. The result is not twee; it is sincere and energetic. The Mantles offer a form of nostalgia. The cajoling quality of the instruments they bring together, twinned with the deep drawling vocals, is affecting. Light and dark entwine, forming a richness of experience. It seems you can glean something new from this album every time, in whatever mood you may find yourself.