The Hit Ups - 66Sexy / Unforgivable (preview tracks)
With the new album on the horizon, these generous blokes from the South West have given us not one but two preview tracks to whet the appetite and give us something to hold on to whilst we wait- and somehow we feel it'll be worth it!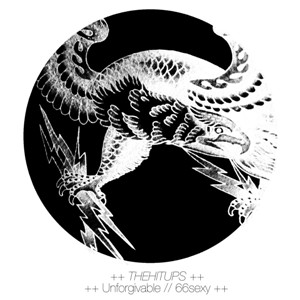 It is clear there is a slight alteration in mood from their past releases. A seedier edge has sunk in to their usual mood of disco-chaos, as they revel in the half-light screaming the lyrics with a menace that is at once charming and disturbing. 'Unforgivable' drops you in with one large heavy riff, rising and falling throughout, creating a will to skank through the progressive beat and crushing rhythm. Vocalist Josh Hughes' voice drips with confidence and persuasion as he cries "lets live a haunted life, lets live forever, lets be the disco ghosts, lets be together". A contradicting set of lyrics in the will for life and death, but one which hints at the incongruity of lust and desire. The pace at which the track is set seems to pitch, subtly slowing after the intro, creating the rising tension of racing hearts as you storm straight through the middle of chaotic reverie, and out the other side.
If 'Unforgivable' hints at this darker underside, '66Sexy' comes right out and says it loud. Eking into a soft melodious intro, you are thrown into the chaos of a riff Rage Against The Machine would be proud of, and the Lyrics "Yeah girl you might love him so, but after tonight you're never going home", upping the ante with a raging chorus, before settling up with a soft, velvety declaration of devotion with "I'll settle for no port in the storm but yours. I'll set these flares alight and wage my wars". The Hit Ups eloquently create an energetic and fluid confidence within this track, proving their ability to delicately arrange and tailor each song before offering it up to their fans. Not only do the lyrics manage to infer an insight into the darker sides of the psyche, but the hefty bass and guitar riffs set it off beautifully, mimicking the lyrical rise and fall with a tight drum beat forming a brittle backbone throughout.
It speaks volumes that The Hit Ups music seems to be created to compliment the darkness. Play these songs before you hit the town, and be prepared to be humming the odd bar, or belting out a choice line throughout the night. The gathering sense of energy generated from these tunes combined with a dark resonating beat is a tough feat, but nevertheless magnificently managed by these four lads from Bristol. 'Unforgivable' and '66Sexy' are available now
here
.