The Herbaliser - Herbal Tonic: The Best Of The Herbaliser (Ninja Tune)
Bearded celebrates the funk out of The Herbaliser!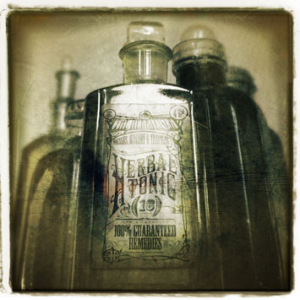 These guys have been one of my favorite acts for some time now and the moniker 'Best Of' certainly lives up to the hype this time. There's two things I love about these guys in particular is their approach to the glorious genre that is funk and their ability to produce tracks that wouldn't sound out of place in a classic Michael Caine flick whilst still sounding fresh.
'Gadget Funk' kicks things off with some sick jittery goodness that would make P-Funk pioneer George Clinton smile. This is one of my all time favorite tracks to listen to when out and about as you can't help but strut! I tried to hi-five someone in the street during the horn break but that's another story that didn't end as I intended…
One word to describe 'Nah' Mean Nah'm Sayin': bombastic! The brass punctuates Jean Grae's vocals whilst keeping the groove rolling along. 'The Missing Suitcase' is a fine example of their 'retro' work. (Get your suits and loafers at the ready). In the hands of lesser artists a track of this repetitive nature would fall flat but the subtle changes and embellishments as it progresses work beautifully. It's also an obvious nod to composers such as Lalo Schifrin and David Axelrod. (If you don't know those names, you need to sort that out.)
The minimally arranged 'Starlight' (feat. Roots Manuva) is another fantastic track, the combination of sparse piano, a stripped back beat and other subtle layers of sound is excellent. It evokes memories of being at a party when the fog is starting to clear and everything starts to look normal again.
Another great thing about The Herbaliser is that they assemble a band to play live instead of taking refuge behind the decks. This is represented here with two tracks, the sesame street-esque 'Mr Chombee Has The Flaw' and the ultra-funky 'Ginger Jumps The Fence'. My only criticism is that the audacious live version of 'The Missing Suitcase' wasn't included.
I must admit my patience wore thin with 'The Sensual Woman', don't get me wrong I am no prude but I find spoken word samples in music almost as annoying as whistling in music. I can't help it, it makes me recoil in horror.
A special treat for fans is the unreleased 'March Of The Dead Things', a sinister yet slightly comedic offering. The end result made me want to stalk the streets like a cockney nut job, can someone pass me a purple cape and a top hat please?
All in all a great collection of tracks and a must for any fan of The Herbaliser or any fan of music in general! I could go on about it all night as I enjoyed it that much, but I won't!