The Grand Undoing: White Space Flavors and Parties on TV (Self-Released)
Impressive collection of Americana infused indie rock from Boston outfit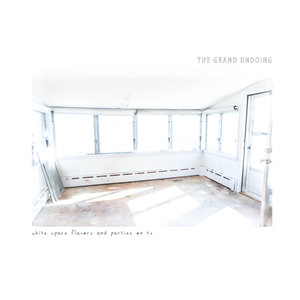 One of my favorite aspects of Husker Du (and, to be truthful, every single other subsequent Bob Mould project) is that voice and music match – perfectly.
I've always seen and heard Mould's brassy trill as an extra instrument in the mix. While I am a fan of contrast in my music, I am equally delighted when the whole package resonates harmoniously and just, well, makes some cotton pickin' sense.
From the first moments of
The Grand Undoing
's "New World" I just got it. Seamless access on take one is rare, but take Seth Goodman's trembling warble and lay it over urgently paced rock and there it is for you, map and legend. Goodman's voice is uniquely country worn, edged with menace, creating the image of a crumbling picket fence everyman, a role he plays on quite well. "Piers and Anderson" is upbeat and bright in places, while "Long Are The Hours" showcases a slow mournful style, colored with a delightfully erotic impatience.
Goodman cut his teeth in Boston's college radio atmosphere, an obvious devotee of roots rock, Americana and pedal steel country. You can place "Song In B" on the turntable and make your crotchety, Bill Monroe loving uncle happy, then lift the needle and impress your cousin with "Cold Of The Iron Gates." A dynamic new release,
White Space Flavors and Parties on TV
manages to play as a quirky song collection, while balancing a measure of seriousness.
Seth Goodman isn't Bob Mould (really, who the heck is?). Nor should his project stack up against one of the truly unimpeachable resumes in indie rock. If you're looking for a place of new rock to jam a finger into,
White Space Flavors
may prove satisfying. It is a curious thing that avoids turning into a simple curiosity.