The Flaming Lips - The Terror (Bella Union)
Wayne Coyne and Co. make uncompromising return on thirteenth studio outing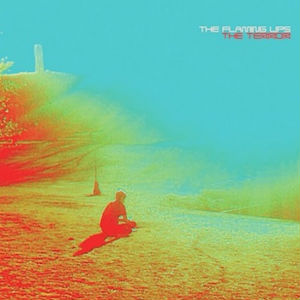 Thirty years into a career of psychedelic punk whimsy and
The Flaming Lips
begin their thirteenth album with the line, "Look, the sun is rising. There is a little spaceship hiding in the clouds." Sounds like a textbook Lips lyric that would sit comfortably next to such previous hallucinogenic earnestness as 'Christmas at the Zoo' or 'Yoshimi Battles the Pink Robots'. However, it soon becomes apparent that this is not a re-tread of familiar ground as the throbbing post-punk groove builds to a bleak and nihilistic conclusion. "Who will love us now?" wails Wayne Coyne as if he hadn't written 'Do You Realise??' confirming that
The Terror
is definitely not the much-mooted return to the platinum selling style of 'Yoshimi…' and
The Soft Bulletin
.
Why anyone would expect The Flaming Lips to repeat themselves defies a record of unparalleled weirdness that perhaps peaked with the four-disc insanity of
Zaireeka
. However, their last proper album was the noodling jazz-tinged
Embryonic
, and
The Terror
is equally uncompromising. Grinding, almost industrial, themes pepper the album, as do the relentless synthesiser throbs that create a soundscape recalling early Nine Inch Nails as much as the inevitable Pink Floyd influence. The thirteen-minute 'You Lust' would not be out of place on
Wish You Were Here
with its Floydesque portentous synth refrain and stately groove.
In fact,
Wish You Were Here
is a useful reference for this album, as it very much shares a sense of disillusionment and hopelessness. Coyne himself described
The Terror
as, "this bleak, disturbing, hopeless record." Make no mistake; this is a dark record with nihilism at the fore, easily demonstrated in such numbers as 'You are Alone', 'Butterfly', 'How Long it Takes to Die' and the title track. In perhaps the same way that Radiohead's
OK Computer
reflected the claustrophobia of an ever-digitised age at the turn of the century,
The Terror
seems to reflect these recessionary apathetic times where love may not save us.
Despite the themes of post-apocalyptic chaos, this is, for The Flaming Lips, a very focused album. Compared to their recent rambling efforts, it is a model of coherence. Multi-instrumentalist Steven Drozd should perhaps take most credit for this with his trademark symphonic flourishes that resist descent into prog indulgence and anchor many of the songs in hypnotic swirls of menace. Coyne's vocals are produced to a wonderfully ghostly effect that, whilst lacking some of his usual endearing frailty, reflects the album's stridently chaotic themes. It should be said that there is one moment of respite on this oppressively dark album with the beautiful 'Try to Explain', which is perhaps the only song here that would slip seamlessly into any other Lips album.
So The Flaming Lips, the poets of psychedelic whimsy and new age positivity, have produced a deeply uncompromising album of negativity and hopelessness that will definitely not be a Grammy-winning platinum success. However, there aren't many bands in their thirtieth year – let alone any new bands – that so accurately soundtrack the times we live in, which, let's be honest, are a brutal Orwellian nightmare. This is an album for the "end times" as Slovenian philosopher Slavoj Zizek describes our age; a rage of sadness as the deal goes down. True believers will find a richness on this album last seen on
The Soft Bulletin
, but alas, without the cartoonish presentation that made that album so accessible, it is unlikely to appeal beyond the core fan base, which is a shame as this is one trip that truly rewards the effort.