The Flaming Lips - The Flaming Lips & Heady Fwends (Bella Union)
The Flaming Lips have always obediently followed Jim Morrison's instruction to 'break on through to the other side'. That is, if we presume that by 'other side' Jim meant to consistently produce outrageous psychedelia over a thirty-year career. On these terms they have succeeded admirably, from their origins in punky garage rock chaos, through the four cd (to be played simultaneously) lysergic brain ache of Zaireeka to their commercial zenith as purveyors of lush symphonic pop. Recent years have seen them step back from the more commercial sounds of The Soft Bulletin and Yoshimi Battles the Pink Robots with 2009's elongated noise jam Embryonic, their deranged cover version of The Dark Side of the Moon and an EP encased in a plastic skull. Their new release certainly continues this fine tradition of weirdness.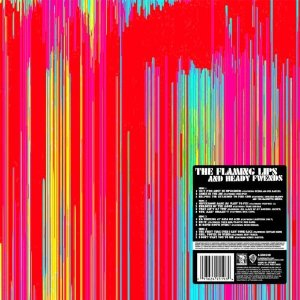 The Flaming Lips And Heady Fwends as the title suggests is an album of collaborations that has been drawn from a series of EP releases and random recording sessions from the last few years. Whilst ostensibly a stop gap until the release of their next album proper, this is a surprisingly coherent collection despite all the disparate elements involved. The eccentric guest list includes Ke$ha, Bon Iver, Erika Badu, Yoko Ono and Tame Impala amongst many others. However, their contributions do not dilute the Flaming Lips sound too much. In fact this album covers much of the same territory as Embryonic; crude processed beats, abrasive guitar and epic synthesiser sweeps all drenched in reverb.
The only exception to this would have to be Nick Cave's contribution 'You, Man? Human???' whereby Nick resurrects the spirit of The Birthday Party with a grinding post-punk groove that soundtracks his demands to be touched. It certainly does not sound like the work of fifty year old men. Neither does 'That Ain't My Trip' which sees Jim James duet with Lips singer Wayne Coyne in what can only be described as a sci-fi Nazi nightmare as they holler about shaved balls to a monolithic Nuremberg style beat sandwiched between atonal guitar and choral backing vocals.
Amongst the heavier freak outs there are moments of sublime beauty such as 'Ashes in the Air' which sees Coyne and Bon Iver sing 'You're fucked up in the good way' in a hymn to psychedelic nihilism. 'Children of the Moon' is a textbook example of Lips style melancholia featuring Tame Impala and cracked Beach Boys harmonies. More unexpected is Erykah Badu's take on Ewan McColl's 'The First Time Ever I Saw Your Face' which in the Flaming Lips hands becomes a blissed out My Bloody Valentine style dirge with reverb laden Rhodes piano.
It must be said that some of the sonic experiments grow tiresome on the more gimmicky tracks such as Yoko Ono's 'Do It!' and the punk-pop by numbers '2012 (You Must Be Upgraded), which in the weirdest moment on a weird album, features Ke$ha. However as an album it holds together largely due to Wayne Coynes bizarre, magnetic charm. Whilst many are immune to his style of psychedelic whimsy, it's hard not to be entertained by song titles like 'Superman Made Me Want to Pee' and 'Helping the Retarded to Know God' or lyrics like 'Take your legs and run to the death rays of the sun' in the apocalyptic 'Is David Bowie Dying?'
The Flaming Lips And Heady Fwends is an eclectic and entertaining collection that is often more than the sum of its parts. A surprisingly dark album that somehow weaves together a coherent theme of impending apocalyptic doom that is sometimes swamped by its random improvisational nature. It never approaches the emotional peaks of the Soft Bulletin or the psychedelic highs of Yoshimi Battles the Pink Robots but is a worthy addition to these veteran heads career.