The Comet Is Coming: Channel The Spirits (Leaf)
London psych/funk/jazz/electronica troupe unveil highly promising debut set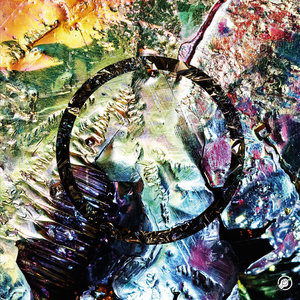 While it would be tenuous to call this a full-blown concept album, you'd expect some slow claps in revealing that there's a galactic theme present. Having a theme can be appealing and fun, as long as there's some ruddy good material to back it up… and that can definitely be certified by the music of
The Comet Is Coming
. The name deserves some credit too, have you ever before heard a band name starting with "The" that is a complete sentence? Comment below if you have.
…So if we're getting into character then, the trio consists of Danalogue The Conqueror and Betamax, who already form the excellent Soccer96 (the latter of the duo also responsible for Hot Head Show and Super Best Friends Club's drumming – a seriously immense force of rhythm). They are completed by saxtrordinaire King Shabaka, who has elsewhere championed the horn for Sons Of Kemet and Melt Yourself Down, to name a couple from many outfits.
This twelve track LP has been launched after suitable distance from an impressive five track EP released late last year, allowing the momentum to pummel the band forward like a light speed travelling mothership. If you play the EP first before the album it finishes running smoothly into that all important intro track 'The Prophecy' - establishing the mood for an imminent astronomic journey. 'Space Carnival' is a track that takes off (read that sentence in Zane Lowe's voice for extra effect). It grabs your attention early and then bursts fiercely through the cosmos with its deep bass and turbo-boosted drops. It's a tune full of flavour, frenetic rhythms and cheeky harmonies from the sax and the organ too. 'Journey Through The Asteroid Belt' follows with a slower, floatier approach – quite possibly due to the listener being frazzled from the last track. A melodic haze ensues, echoing in the head for hours after listening. The drum fills sync brilliantly with the sax at the end, showing the serious chops these guys have developed.
All instrumentation equally contributes to the mixture throughout
Channel The Spirits
, whether sporadic or recurrent. Every player shows their capacity to sound wild and free but at the same time integral and locked in. We hear a fully unified musical compound on fire with ideas whether big or small - a vital asset for any three piece in which TCIC provide a shining example of. Influence wise there are instances of Sun Ra, P-Funk, Miles Davis, as well as Aphex and Squarepusher-akin moments like those abrasive synth phrases and extra-unnerving chord sequences giving it that futuristic characteristic.
The album tends to get less melody driven in the centre of the LP. From the first few listens it seems like there's a mighty centerpiece missing, although it doesn't exactly mean that we're getting lost in the ether here either. For what it may lack in catchy melodies or repeated riffs, it excels in everything else; profound sonic textures, massively creative effects treatment, mixed up tempos and avant garde-like moods that spiral into unpredictable progressions. It takes longer to get to know the middle of
Channel The Spirits
– the listener ideally needs to take the plunge into uncertainty and with a bit of luck it will repay the ears – although they may never recover. Perhaps the order of tracks was sculpted with this in mind.
The title track boosts up the pace again for the final third. You hear Shabaka at full pelt, squeezing some unreal notes out towards the end, while a simple heavy bass line dominates. It's maybe not as memorable as 'Space Carnival' but just as urgent and intense, and definitely drives with a more primal feel. Living up to its name? One would assume so. The only lyrics of the album appear on 'Lightyears' with an exceptional all-spoken piece by Joshua Idehen. This performer featured at the end of the EP too but he's noticeably more livid and bloodthirsty than long-sufferingly accepting this time around, sort of like an angry Saul Williams when he doesn't try to sing. The message is gripping, with a vicious deliverance and it's not worth attempting to quote one line from – it's an all-in piece for sure and it provides this dystopic hysteria towards the bleak but strangely enjoyable culmination of the record – 'End Of Earth'.
Indeed this is a debut album that will leave you dumbfounded, reeling, exhausted and inspired. Hats off (or space helmets off if you like) to the
Leaf Label
for putting this one out, an honorably explosive release to help mark their indent after twenty years as an indie.
The Comet Is Coming Links