The Begowatts: Photoelectric (Self Released)
Absorbing debut set from Wisconsin hard rock crew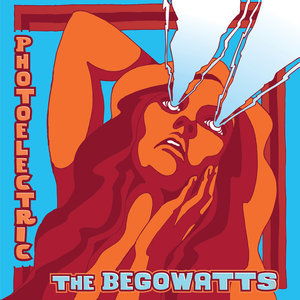 Madison, Wisconsin home of
The Begowatts
, a hard rocking four piece offering a blues/hard rock fusion in the spirit of Iggy Pop and a smattering of influences. Their newest recording,
Photoelectric
opens on a crunchy thrust with the track "In The Nighttime" which sets the tone for much of the rest of the album: solid radio friendly songwriting and clean production on mid-tempo rock.
The guys offer satisfying songs that are not terribly fast, a menacing edge that eschews the urge to go too far over the top. Lyrically, Begowatts lead signer David French doesn't get too dark. He doesn't dig for cryptic hooks like his influences, more of a series of "coming for you" or "coming for your girl" songs (like the radio-tastic "Rock Lust") more interested in filling the speaker with guitars than your head with big concept ideas. They're about the driving, up front leads and memorable solos, as evidenced by "Hard Times" and the stomping "Eyes Of A Woman."
An impressive debut,
Photoelectric
closes with "Only Dreaming" the most down tempo track on the album that shows a bit of range. Overall, there could be more variety here to augment the straightforward songwriting, studio touches, a few breaks and flourishes on the songs that take them out of bar band territory.
The Begowatts do not quite reach the depth of their influences, and one wonders what comes next on their follow up. Do they bring in some of Iggy's drugged out urban darkness? Or perhaps it's the spacious, mystic tones of Blue Oyster Cult? One thing is certain. The Begowatts earn enough of your interest on
Photoelectric
to check back in to answer that question.