Teeth of the Sea: A Field in England Re-Imagined (Rocket Recordings)
Psych/prog quartet create new soundtrack for cult UK horror flick on Record Store Day release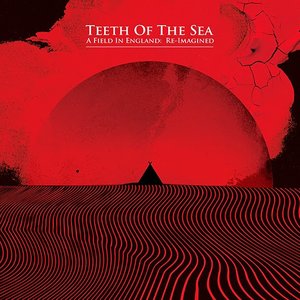 The boys of
Teeth of the Sea
put their creative muscles to good use with
A Field in England Re-Imagined
. Based on the 2013 black and white film from director Ben Wheatley, the short offering pulls you into the same far-out world that movie creates for viewers. I highly encourage anyone interested in this new release to watch the movie before listening; the flick may not cater to your tastes but it will be a good frame of reference for the LP by Teeth.
This soundtrack is a short listen with only three parts totaling to a little over 30 minutes of music to enjoy. The formatting fits the project well and it is easy to catch on to the vision Teeth was going for. Opting for the unsettling and unorthodox, Teeth of the Sea keeps the mood somber throughout the LP using a mix of acoustic instruments and synth effects. High-pitched ambient noise and strange horns leads off the first 'act' which suddenly breaks (anticlimactically) to slow guitar play. The second 'act' continues the guitar work of the first, acting as a musical buffer for the strangeness that follows. The third and final part brings the head trip full circle with heavy percussion, ambient synth and guitar. Disparate elements flow well together and form quite the journey when you hit play.
The main problem with this LP is that it doesn't push the psychedelic aspect far enough.
A Field in England
is quite the head trip with warped visuals, eerie themes and mysterious lack of explanation for the actions on screen. In order to match the flavor of the film, Teeth of the Sea needed to push their craft to the farthest reaches in terms of instrumentation and song creation. Groups like The Knife or Sun Araw serve as great examples on subverting musical expectations. If more risks were taken with the sound of the project as a whole, these guys would have something truly special to go along with a one-of-a-kind movie.
This
Re-imagined
soundtrack is a good step in the right direction but doesn't quite get there in its attempt to capture the spirit of the film it's trying to complement. As a standalone product, it's cohesive, well-made and serves as a nice little trip to the weird end of indie. Definitely worth the listens for fans of the group and genre.