Supine Orchestra - Oil On Beaverboard (Half Eaten)
Second record from the band with the misleading name.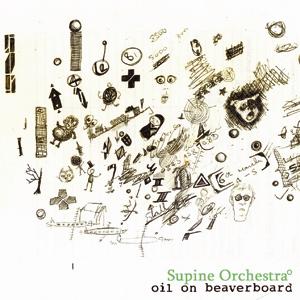 This is the second full-length outing from the Coventry based duo of Joel Kendrick and Richard Sykes, offering a more matured and haunting offering of indie-folk this time around.
Oil On Beaverboard
demands a reasonable batch of attention when listening, should the atmosphere fit. It holds a vulnerability to get lost in the background of whatever it is that's more exciting (for example a high-energy conkers tournament), or provides an ideal soundtrack to something aptly partnering (such as a jaunt in the park to collect a nice selection of fallen leaves).
There is a distinct stripped down approach to instrumentation here too, with little flailing about to allow space for the assumingly high-priority lyrics. Although not the most poetic of such they are easy to pick up, such as "you'll never fly with a worse pilot than me" featuring on The National-esque track 'Under The Radar' – a thoroughly pessimistic song despite its warming harmonies reminiscent of The Byrds, also more of that in 'My Imaginary God'. 'Cold Carry On' is equally downbeat but has a hushed quality that makes itself akin to one of the emperors of downbeat - Elliott Smith. Throughout the duration lies mellow outbursts of accordion, slide guitar, mandolin and percussion to keep the interest flowing like a Jewish man's savings account, some are entire tracks such as the linear 'Taliesin West' and the short-lived ditty of an ender 'Night And Blue'.
Like its title, this album maintains a minimal nature, which really is their house sound. Yes there are times where the concentration levels can potentially sink, especially with thirteen tracks. Sometimes the music can live up to some of their lyrics like "shades of grey and shadows of matt" on occasion too, but this happens as long as the observance of its admirable warm and emotional qualities is in play. It's clear that Supine Orchestra are deeply melancholic songwriters, yet polished and refined to that respect; can you imagine what this record would sound like if these individuals were unhinged drunkards? In fact, there are tracks like 'Feverish Dreams' and 'There'll Be No More Whiskey In This House No More' that suggest their dismissal of that particular direction, particularly in the former, where they reminisce from "round the back of the bottle bank where the seagulls fought me for my soul". Don't worry chaps, we all hate it when that happens too.