Station 17: Ausblick and Werkshau (Reissues) (Bureau B)
A double hit of reissues from storied Hamburg experimentalists is a sterling demonstration of the group's worth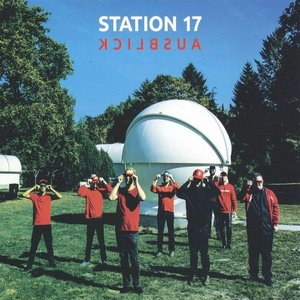 An experimental music collective from Hamburg, Germany, the rotating group members of
Station 17
have been active making music since 1989 and were hatched as both a social and creative project. In the over thirty years since their formation, Station 17 has released upwards of ten albums, a whole bunch of singles and remix projects, and collaborated with artists from all over the map.
If, on first listen to Station 17's catalog, their sound feels difficult to put a finger on, you're definitely in the right place. As is common with the nature with creative collectives, the band draws influences from a wide range of musical areas and usually fits those influences through their unique viewpoint. Listening to these two records was my first exposure to Station 17, and straight off the line my impression was one of a restive musical spirit. The nine-track
Ausblick
opens with a type of groovy, electro Krautrock rock that compares comfortably to Can's fourth album
Ege Bamyasi
. Tracks like Geisterstunde Baby and Dauerglimmer are teeming with splendid psychedelic song craft, pop-out beats and a dose of stark, otherworldly vocal delivery. On Eine halbe portion Gluck Station 17 dabbles with disco beats, leaving a track that feels like a send-up of the late 70's aesthetic, with its drowsy sing-song, roller skate vocals.
The last three tracks on
Ausblick
drift off into electronic instrumental space. They are full of an array of melancholic synthesizers, percussion and pings and pops. It's hardly ambient and eschews minimalism (especially Miniaturen) but there is a dreamy thread connecting them. One could view these as outros to the album's ambitious front, but a keener read is that they're experiments, the band cycling through one of pop's natural off-shoots.
A few places on
Werkshau
sees the band dives into something a little more distant, as tracks like Bademeister utilize hard beats and slashing, bracing nihilistic guitars to create a sound that feels like The Prodigy, or the dawning, inspirational groove on Dinge which should harken back to waking up on the lawn of an all night rave. Between the two discs,
Ausblick
branches further from 70's rock experimentation with disco and house grooves and hip-hop on St. Pauli der hat heute Geburtstag and Uh Uh Uh. I don't know if it's the more eclectic record, but it's certainly more urban and modern, likely holding a broader appeal to contemporary listeners.
The sheer amount of music contained on these two albums exceeds twenty-four tracks. It is more than the sum of their wildly divergent parts. Deftly Station 17 navigates their influences, earning their excess. A bit of Latin flavor even shows up on Pata Patao from
Werkschau
. Sometimes these albums feel like hat tips to their classic German brothers, Can, others to seminal New Order, and others the album follows the crooked urban labyrinth linking the two. Once again, the Station 17 listening experience is as restless as it is satisfying.
That these albums sound like an experiment in genre mash ups, should not seem dubious. However far and wide these two records explore the reach of pop music, drawing on a myriad of spectacular influences, they somehow end up giving proper representation to each. As a band and collective, Station 17 represents a widely traveled crossroads between musical cultures and these two records are a statement about the power of pop music.
4/5