Sparrow And The Workshop - Spitting Daggers (Distiller)
Sparrow And The Workshop's second record will grab you, if you let it.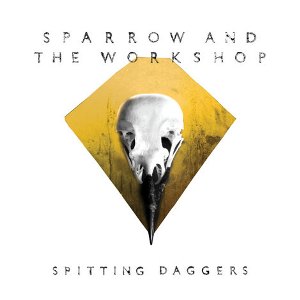 Pastiche can be an ugly word when used in its raw sense. Teaching Pastiche as the dead-eyed cousin of Parody, it has no intellectual intent, and therefore drowns and is despised on the extremely shallow shore of popular culture. However, what does one say when the Parody title doesn't quite fit the bill?
Sparrow & the Workshop
weave a special form of grown-up brash rock, one which feeds from past occurrences, and yet does it without a smile. There is no 'Parody', per se, behind the hungry shriek-growl that colours the lungs of femme fronter Jill O'sullivan, and yet she crows with all the passion of vintage PJ Harvey (perhaps a little Karen O). Maybe Homage could make up the difference? But no, there is not straight link to where they have gained their strength. And yet, nostalgia bleeds from this record. It has echoes in bluegrass and folk, reaching into the new age with points of heavily produced beats settling underneath, but by no means transcending plucked steel and brittle drums.
Steady rhythmic dirges and lightly brushed strings are strange in comparison to the bulky riffs and smashed skins which wrap around this record. The tough exterior no doubt anchors the fragility that emanates from Jill's vocal chords at points, before the shield comes up and she is back in the driving seat. Most beautifully exemplified in 'Faded Glory', the shimmering notes from softly played riffs and sparse beats serve only to make you more aware of her howl. 'Soft Sound of Your Voice', the most arresting track on the album for its sheer nervy quality, traverses that awful feeling when you know you could betray someone for someone else. "...I realise you're not my man. Stay here now, I haven't finished figuring you out." It makes no apologies, but frames itself in guilt. This is an elegant emotion to master through Nick Packer's low slung bass and light wooden taps, and the occasional addition of backing vocals from Gregor Donaldson. It is heartbreakingly beautiful.
Tracks like 'You Don't Trust Anyone', involving lyrics "...even your shadow casts a doubt" proves their capability to write beautifully clever insights, and melodies that are assured, yet this is not an album of defining hits. It doesn't pretend to be. Whilst there are moments of darker, harder rhythms and menacing punches, the lo-fi quality of title track 'Spitting Daggers' clarifies what has really been formulated here. It is a grower, one which evolves from single release and undeniable hook 'Snakes In The Grass' and seeps in to your subconscious. This could very well be based on the conscious or subconscious guide of the greats (such as PJ Harvey) that informs the record as a whole. From the crooked Zooey Deschanel/M Ward style of 'Old Habits' (though undoubtedly with a bloodier edge to the subject matter) to the Fleetwood Mac-esque pacing and raw sweetness within 'Against The Grain', and even chimes of Frankie Valley in 'Father Look', their fractious backgrounds (namely rooted in Wales, Scotland, Belfast and Chicago) have created an echo of sorts.
Spitting Daggers
holds tracks that complement each other, but don't necessarily reach out and grab you. It is fairly easy listening, with echoes of past accomplished artists who will remain in the collective conscious. This could easily be achieved by Sparrow & The Workshop for this very reason. Pastiche is not a word to use here, but neither is Parody or Homage. It is difficult to put your finger on, but the result remains a mystifying lo-fi collection that will resonate, if you stick with it.
Sparrow And The Workshop Links