Some Bodies: Sunscreen (Funnel Music)
Compelling, thought provoking debut from Bristolian alt. rock genre magpies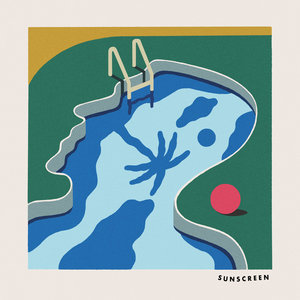 The opening track in
Sunscreen
, Tired All The Time is a slow and heartfelt concoction that pegs UK indie rock band,
Some Bodies
as suave paramours of old time confections.
But that is not entirely the case.
The following track, TV Show breaks off with big guitars and feels like a full-tilt crowd pleaser. The four-minute stomper is just a nibble of swarthy rock featuring crackling lyrics though, followed by sublime doe-eyed nostalgia on Silver Screen.
As suggested on the cover image (oddly reminiscent of pop artist Roy Lichtenstein) dive into
Sunscreen
and you'll likely find the water deeper and stranger than first thought.
Some Bodies hail from Bristol, UK. As far as debut records go,
Sunscreen
is full of surprises, not the least of which is the band's ambitious reach for big concepts. At the same time as this collection of tracks cobbles together elements of classic 60's and 70's era psychedelic revivalism and indie rock it is also winking back on a catalog of smooth influences from the past.
Between any two songs the band strikes contrasting sonic elements. They are also adept at exploring odd themes, particularly the idea of nostalgia and the tastelessness of nostalgia. Captured in bouncy, prowling rockers like Higher Self the band seems to boldly lay claim to both the kind of navel gazing introspection to write a haughty track about finding enlightenment and enough chutzpah to boast shallowly about it.
There are places where the set comes across as a strong, guitar rock album (as evidenced by the album's most raw track, Escape) while in others the songs seem to be bidding adieu to those days (see Pushing Daisies). It's a clever turn for a band that hails from the same town as genre trailblazers Massive Attack and Portishead. Touching on influences without blowing through them proves to be an effective way to turn the band's core concept into a clear sonic quality and makes their debut record a kind of anti-statement.
Some Bodies are looking back and forward all at once. That is never more clear than on Ain't Over Yet a track that straddles time and emotion and place.
As much as Some Bodies are trying to make a statement on their debut, the record stands on its own two feet as something worthy of repeat listens. The washed-out drones of tracks like Sunshine and My Name (With Madness) is a gorgeous blend of blissed out 60's rock and the band's commitment to strong vocal performance and harmony.
This is a record to play and enjoy. More than anything though, it is one to ponder.
4/5
Some Bodies chat about the making of Sunscreen:
Bearded: The music styles on Sunscreen vary but also shift around in an oddly casual manner. Can you describe why you chose to employ so many differing music styles?
Some Bodies:
One of the themes that we wanted to focus on in this album was nostalgia and our generation's quite tasteless obsession with it, so we wanted to make something that reflected both the nostalgia and the tastelessness. Jumping between five decades of pop music should be an ordeal but we approached it with a laissez-faire attitude that ended up being the style. It's also an homage to the guitar-led bands of yesteryear that we found ourselves essentially writing a requiem for. A significant part of the music that we all grew up listening to isn't especially fashionable or what the world needs, so it was fun being able to reframe it through a contemporary lens, per say.
You tackle a lot of life's pain and malaise in a laid-back manner. What are you trying to convey with those contrasting tones?
One of the words we used when describing the music was 'Prozac', which we all know is this Planet's coping mechanism for pain and malaise. We think there's something sadder about the suppression of pain and overall breeds tension. The contrast between the sound and lyrics resonate the cognitive dissonance of being comforted by the warming embrace of chemically-induced 'happiness'.
Each time I listen to Sunscreen I experience different emotions, loss and nostalgia contrasted with the pain of actually looking forward at the life ahead of you (which is odd in your mid-40's!). Can you recall your emotional states while writing it?
Your question perfectly alludes to our emotional state whilst writing this record; transformative. We were looking back and forwards at the same time, simultaneously mourning the loss of old projects and looking forward to what this new project might hold. This is a new band's first record so it was important to us that it sounded hopeful whilst also being cynical of everything around us. We were enjoying playing together and we were enjoying complaining about everything.
I would be remiss if I didn't ask about the cover image which seems like a comment on the depth of the human emotional or psychological condition.
We really can't take any credit for that. We were putting together a collage for the imagery of the album, one was the minimalist cover of Murakami's (1979 debut novel)
Hear The Wind Sing
by Seb Agresti. To reiterate another theme on the album, we messaged him on Instagram. The swimming pool was Seb's idea, the water reflecting the sky and hiding what is below the surface, consciousness masking the subconscious with only a flimsy little step ladder for those willing to venture beneath.
Some Bodies live dates:

Apr 11th: Roadkill: Easter All-Dayer 2020, The Victoria, London
May 2nd – 3rd : Psyched Fest 2020, The Wedgewood Rooms, Portsmouth
Tickets here