Sleepmakeswaves: Love Of Cartography (Bird's Robe)
Aussie instrumentalist post - rock crew make highly impressive return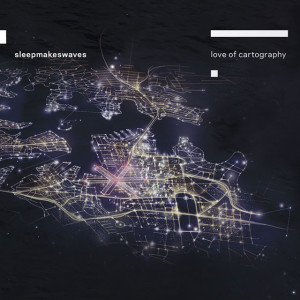 Sleepmakeswaves
are back with their second studio album, and oh what a wait it has been. It was 2011 when Bearded first touched based with them in their homeland of Australia and yet, armed with such intelligent and mesmerizing arrangements in first record
And So We Destroyed Everything
, it wasn't a question of if but when we would be hearing from them again. So here we are! And they do not disappoint.
It's nice to hear that they have not shied away from their instrumental roots, that being somewhat of a USP in the current musical landscape. Opening with 'Perfect Detonator' perfectly sets up the balance of light and shade that informs the record. Taut and fresh, it is alive with movement from start to finish. As fluidity gives way to more brittle moments with math-core trimmings, the swaggering assuredness of its delivery is breathtaking. A fresh enigmatic break in the full pelt flow segues nicely into crescendo par excellence. Savvy and fluctuating, it invites you deeper into the rest of the album in a maniacal yet beguiling glint in its eye.
Step closer, for tracks like "The Great Nothern' will hold your attention yet further. It is not minimalist, and yet it has this expansive quality. Cyclical hooks act as solid features in a gigantic landscape. The monolithic sounds rise and fall, tumbling over your head with a force that is hard to deny.
Rising yet more in industrial chapters with 'Emergent', you get the sense that there are three parts to play out. First tentative and awakening before moving into the punchier middle segment, fast paced and slick, the final chapter slams hard at you before ramping down towards the pensive final bars. The futuristic elements and elegant empathic tones frame a host of emotions.
And Sleepmakeswaves are oh so very good at this. Tapping into the arrangements they create to hit that sweet spot that drives the energy straight into the deepest recesses of your body, making you tingle with anticipation of the next few minutes. 'Traced In Consellations' holds the sublime riffs of a garage punk metal infusion, committing wholeheartedly to the momentum. The resultant entangled maelstrom of drums peal beautifully with more fragile riffs.
The real gem about these guys is that you'll always be enamoured with the journey. No matter where the track starts or ends, there is this tremendous sense that you are going somewhere new. Facilitated by a myriad of smart musical techniques that keep you captivated at every progression, 'How We Built The Ocean' is at this pinnacle. It is smart, brittle and echoing, building to that signature wall of sound, dropping through to a finale of stripped back strings that lilt to a gentle outro. Intelligent design is built into every moment.
It isn't all big bold sound though. There is the capacity built within to step back, to hold still and study. 'A Little Spark' is deeply ambient, simulating a sort of cosmic calm before the combustive energy that creates the big bang. Waves of white noise echoing through the air push you out and in, leaving a hazy halo.
Ending with 'Your Time Will Come Again' the tone is reflective, with slow strummed high notes alternating with minimal bass notes. The encroaching keys and staccato beat herald the warm relaxed tone of massive Massive Attack's 'Teardrop'. It has a glossy feel, smooth and inviting. That sudden wall of sound is a wave that keeps breaking speeding you into their infectious path of energy. A knowing nod of "It ain't over 'til its over".
This record is a well-oiled machine. In a world devoid of lyrics, the centrepiece becomes the arrangements and how they speak to you. It de-clutters, and allows for the band to arrange a space in which you can focus and navigate in any way you want. With Sleepmakeswaves there is much to feast on, for even the hungriest of musical explorers. It could even be better than their debut album! Maybe we'll give the record a few more runs through, just to be sure…