Samoans: Rescue (Kissability)
Superlative debut LP from Welsh noise/post rock quartet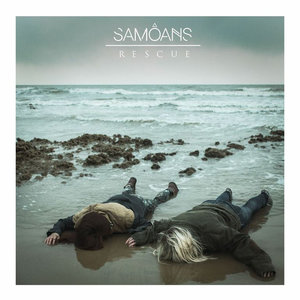 Samoans
have me on a thesaurus search for contrasting descriptors. Their sound is both austere and lush. Vocals are urgent and nihilistic. All the while I'm brought in for a slow dance and then popped in the mouth with a hard right.
What I'm really driving at here is a characterization of layers, and the Welsh band unfurls their multi-faceted sound with a delightful furore. Every song on
Rescue
resonates with intricacies, building into a guitar storm of utter chaos or they're otherwise bliss strewn and melancholic. The album has everything.
Finding an analog for their bright, yet gut-churning sound is quite difficult. Perhaps they're a band without any real peers. There are so many times throughout
Rescue
that I want to scream out Mogwai, case in point being the album opener 'Tightrope Walker Complex' which broods over a slow developing bass line or the menacing guitar line on 'Lighting Beneath the Sea'. But there is a level of accessibility here, something that the post/noise rock progenitors never offered.
After all the scrambling for witty ways to characterize Samoans trademark tenacity, they offer a few moments of reprieve on a lovely instrumental 'Give Me A Place To Stand And I'll Move The Earth' which at a minute and half splits the album in two. I can feel 'Apia' in my lower extremities, the slow sway ascending into cathartic finish. For all the blistering, this is an emotionally tuned in record from beginning to end.
Search for contrasting descriptors be damned. Samoans are low in the grass. They're sneaky and after one listen, utterly necessary.