Rusko - Songs (Mad Decent)
Disappointing follow up to debut O.M.G! sees Rusko become all too serious.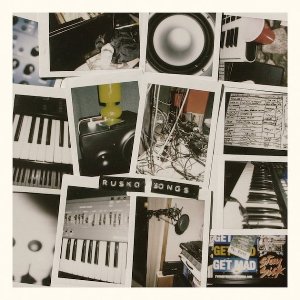 Songs
, the highly anticipated follow up to
O.M.G!
, sees the (Leeds-born) now L.A.-based producer return with a new approach and a slight change of direction. His debut album was born out of being on the road where he'd create his music during the day and test it out on dance floors by night. This time around, ideas were culminating for his second album during a period of nine months where very little music-making took place and in the space of just eight weeks, all fourteen tracks were made.
Songs
begins with his current single 'Somebody To Love'; a three minute mash-up of bass and catchy vocals, not to mention the 90s dance music-styled pianos in the breakdowns which prove a worthy addition to this clearly mainstream-aimed track.'Pressure' though, is a track which has summer vibes written all over it and this track could have come straight out of the UK Garage boom of the late 90s/early 2000s. It's one of those tracks that could have easily been made by the Artful Dodger or MJ Cole and after a lengthy period where other genres have had the limelight, producers such as Royal-T, Mike Delinquent and DJ Q are helping to bring the old skool UKG sound back. If 'Pressure' hasn't been allocated as a future single, then it should be; it's got all the ingredients of a smash.
At this point,
Songs
takes on a dub feel with varying results. The monotonous 'Skanker' does nothing to light up this release and the the Damian Marley-esque 'Love No More' sounds like a never ending loop with very little variation. Then comes 'Opium' which is very confusing. In parts, it may as well as have been called "Woo Boost Part 2" but then it switches up into this fast paced and driving dance track with a really nice vocal. 'Opium' is like a "cut and shut" car where two totally different cars have been welded together to make one and it's difficult to see exactly what the end goal was here. It doesn't stop there. The vocal on 'Dirty Sexy' is all wrong. The content would have been fine (passing as acceptable at best if truth be told) pre-recession but in a world where most people are putting money away for the many rainy days that lay ahead, bragging about being a pimp and wearing designer brands etc doesn't work, not in the UK anyway. It might just be an American thing (the vocalist is American) but very few people can relate to what's being said on this one.
It seems that during the period where Rusko didn't write any music (before embarking on
Songs
), more emphasis on the writing seems to have been placed upon the type of music he was playing out across the world rather than the music he's capable of making. After starting off the album so positively, we have to wait until track twelve with the bizarrely titled 'ASDA Car Park' before we hear another moment of Rusko's genius. The vocal rides the instrumental perfectly, dropping into an explosion of dirty bass and sounds which wouldn't be out of place in a scene from a horror movie. Just when all hope was lost, this dives in to rescue the ship from sinking.
This though, doesn't derive from the fact that
Songs
should have been a big album and in the main, it fails to deliver. It's also trying to cover too many genres. Comparable albums would be Nero -
Welcome Reality
and Toddla T -
Watch Me Dance
, yet this album had all the signs of surpassing what's come before and yet a sense of disappointment lingers. You got the impression that Rusko's first album was made with a massive grin on his face and a middle finger to anyone who didn't like it. His new effort just isn't focused enough and it sounds forced, as if he made everything with a very serious face. It's like he was thinking too much about he thinks people want to hear rather than what Rusko can make when he's in the zone. Above everything else and perhaps most worryingly of all, it feels rushed. Yes, we get glimpses of what makes Rusko a brilliant producer but
Songs
couldn't have been a more apt album title. In the main, that's what they are; just songs.
Bring back the fun...please.